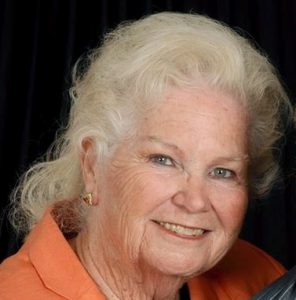 Ms. Jean Bodiford McMillan was inducted into the Florida 4-H Hall of Fame August 2nd. She has helped 5 generations of youth in Gulf County learn leadership and life skills through the 4-H Horse Project. In 1970, she became the club leader for the Big River Riders 4-H Club. Mr. Roy Carter, a former Gulf County Extension Director, says "The Big River Riders 4-H Club holds the county record for the longest running 4-H club [in Gulf County] and Jean is one of the strongest leaders we have ever had the pleasure to work with. She has been the backbone of our horse program and is always willing to help in any capacity."
In addition to serving at the county level, Mrs. McMillian also serves on the Area A 4-H Horse Advisory Committee. This committee of volunteers provides direction and leadership for 4-H Horse programs across the Florida Panhandle (Northwest District). The purpose of the committee is to make sure that 4-H horse events are educational in nature and adhere to the philosophies and goals of 4-H positive youth development. This committee has the authority and responsibility to manage the direction and resources of the Area A 4-H Horse Program. Examples of programs include schooling shows, showmanship and judging clinics, camps, and competitive shows.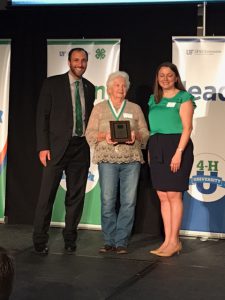 Jean has served on the Area A Horse Committee for over 30 years and has held a variety of positions on the committee. Through her involvement in the committee, she has watched her children, grandchildren, and great-grandchildren participate in the Florida 4-H Horse Program. She is always willing to help with anything that needs to be done from checking bits and helmets to calculating points. She has chaired the Western and Speed Divisions for a number of years at the district level and also pitches in to help with whatever is needed at the State 4-H Horse Show every July.
Her work in customer service has helped her as a volunteer to resolve conflict and solve problems. She began her professional career with FairPoint Communications, Inc. (Port St. Joe office) in 1960 in the customer service department and held various jobs over the years. She is also an active member of the Honeyville United Methodist Church in Honeyville located right outside of Wewahitchka. She retired from the integration and reports department of FairPoint in 2009.
When asked why she has stayed involved with 4-H for so many years, she said:
"We have a very good group of Extension directors, agents, volunteers and members within our Area A Horse Program and I am so thankful to be a part of the group in any capacity. I was a 4-H'er growing up, worked as a volunteer for 5 generations over 45 years and there are so many rewarding pleasures when you see the young people do their best and strive to improve in all areas. When all your heart is given and they continue to give more is the greatest reward of all. Thank you for allowing me to be a part of this astronomical foundation."
Despite retiring from the professional world, she has never retired from her 4-H volunteer work. Her dependability and compassion for youth has earned her the respect and admiration of fellow volunteers as well as Extension faculty. If you are interested in sharing your knowledge and skills to inspire the next generation, contact your local UF IFAS County Extension Office to find out more about becoming a volunteer. We offer a wide variety of roles to fit your interests and schedule.
0