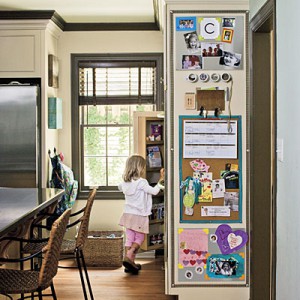 As summer comes to a close, many parents are overwhelmed getting ready for "back to school" let alone the new 4-H club year! Over the next few weeks, we will share some timely tips for busy 4-H parents so that you are less likely to miss a school event, practice, 4-H meeting, or deadline. One of the best ways to stay organized and on track is to have a home communication center.
The first thing you will need to decide is where to place your command center. It should be located in a well-traveled area of your home, such as a kitchen, entry way, den, or family room. You can use a blank wall space that you walk by several times a day, a corner of your kitchen countertop, or even a cabinet. There are lots of ideas on Pinterest and organizing blogs that can inspire you.
Once you have determined a location, consider which elements you want to include in your command center. Every command center needs at least three items:
Calendar– Some families have a calendar for each member of the family, but for smaller families, it is recommended to use one calendar and assign each family member a color, and write their activities in that color on the calendar. You can use a traditional paper calendar or a dry erase calendar. Remember that if you use a one-month dry erase calendar, you will need another calendar or space to put important future appointments.
Folders or cubbies– You can use wall mounted folders/magazine holders, or file folder holders that sit on a counter or desk. One folder per family member to contain important homework assignments, 4-H project information, receipts, bills, and so forth. Folders are not a permanent filing solution- they are only to contain information that is not ready to be filed, or information that that you need to access frequently such as a school lunch menu, or soccer practice schedule.
Message Board– Bulletin boards, dry erase boards, chalk boards, or magnetic boards work well for reminders, important phone numbers, directions to a birthday party, grocery lists, and other bits of information that you do not want to put in a folder or on a calendar. If you are limited on wall space, consider installing self-adhesive cork board to the inside of a kitchen cabinet located above or next to your command center.
Other items that you might want to include in your command center: chore charts, weekly/monthly menu plans, a hook for keys, backpacks, jackets, and a charging station for cell phones.
Last but not least, think about how you want your center to look. You can keep it very basic and functional, or you can design it to coordinate with the rest of the room's décor/color palette. Much of the look and feel of your command center will depend on your budget. Many companies sell coordinating command center components in a variety of finishes that you can mix and match, but they are more expensive. A less expensive alternative is to purchase the individual elements that you need from your local office supply or big box store, and then paint them to match, or cover them with contact paper in a fun print or color. Your command center can be as simple or elaborate as you prefer- you are only limited by your creativity!
As your family prepares for back to school, don't forget that the 4-H year will be coming to a close at the end of this month. Enrollment in Florida 4-H begins August 23rd. To re-enroll, visit: http://florida.4honline.com or contact your local UF/IFAS County Extension Office.
Next Week: Setting up a Homework Center
0