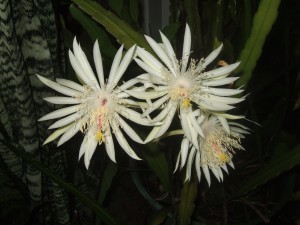 Many of us are working during the day and are not enjoying our gardens during the daytime. And maybe it is just too warm in the summer to be outside during the heat of the day. That leaves us to enjoy our gardens later in the day when the sun fades and evening approaches.
As the sunlight diminishes, the bright colors fade slowly to a black, gray and white world. The first colors to fade are the blues, purples and reds. Pastel pinks, yellows, oranges, grays and blues remain more visible for a longer time and take on a luminescent quality in the pale light. White blossoms now have their time to shine as they stand out against the darker hues of foliage and flowers.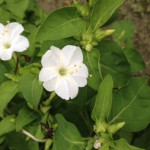 If you find that your time in the garden is late in the day and into the evening, consider planning for that in your plant selections.
Here are some suggestions when planning your twilight garden:
Add some late-afternoon and night-blooming plants such as four o'clocks, moonflower and night-blooming cereus
Plants with silvery gray or white foliage glimmer in the moonlight. Consider white caladium, lamb's-ears, silvery agaves, dusty miller and licorice plant among others. The white in variegated leaves of plants such as pentas, hosta, ginger and dogwood will stand out when dark green leaves have faded into the darkness.
The tranquil sounds of a fountain will enhance end of the day relaxation.
And, of course, add plants with white or pastel-colored flowers. The effect will be enhanced when luminous white blossoms are at different levels; for instance white spider lilies near the ground, white roses at eye level and white sparkleberry high above.

Pastel four o'clock opens late in the day. Photo credit: Linda Griffin, Florida Master Gardener.
0