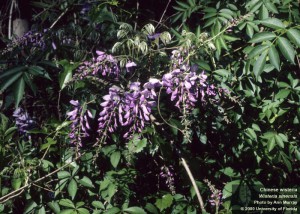 Maybe you have been seeing the Chinese wisteria, Wisteria chinensis, sporting its lavender blooms along the roadways this time of year. This vine may add a pleasant splash of color to the green leafy backdrop, but this is an invasive vine that has escaped our yards and gardens and is spreading on its own in natural communities.
The University of Florida Assessment of Invasive Plants determined that this vine has caused long-term alterations in ecosystem processes and displaces native vegetation. According to the non-profit Florida Exotic Pest Plant Council (FLEPPC), Chinese wisteria is a category II invasive which means that the species has escaped cultivation and is spreading on its own into other unintended areas.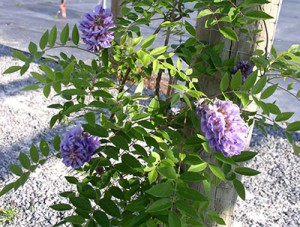 Fortunately, there are several great alternatives to Chinese wisteria. A native vine, American wisteria, Wisteria frutescens, is a great alternative. The native cultivar 'Amethyst Falls' displays lovely fragrant lavender blooms in the spring and summer.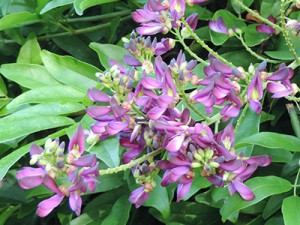 Another alternative is evergreen wisteria, Millettia reticulata, a twining vine (the stems twist around upright supports) that is semi-evergreen in the Florida panhandle. The deep mauve blooms appear throughout the summer months and persist often into the autumn.
So how do you get rid of the invasive Chinese wisteria? The vine can be severed at ground level and the stump immediately treated with a 25% solution of triclopyr or glysophate. There may be some resprouting of the vine from unaffected roots that would require retreating. Please click here for more details. The best time to control this vine is in the spring or summer when it is actively growing so that it will transport the herbicide to the roots and kill the plant.
For further information:
UF/IFAS Center for Aquatic and Invasive Plants: Chinese Wisteria
UF/IFAS Assessment of Invasive Plants: Chinese Wisteria
FLEPPC: 2013 List of Invasive Plants
UF/IFAS Gardening Solutions: American Wisteria 'Amethyst Falls'
UF/IFAS Gardening Solutions: Evergreen Wisteria
0