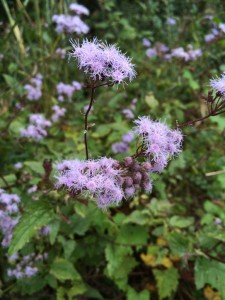 Here's a beautiful native perennial wildflower that is easy to grow and generally available in the independent nursery trade. In the wild, you can encounter them at the edges of woodlands and ponds as they prefer moist areas. Blue mistflower, Conoclinium coelestinum, performs well as a perennial in the home landscape but does spread easily by seed and will spread in the garden. It also spreads through underground rhizomes which allow it to form large clumps. This is an advantage for the informal garden, however, the gardener who prefers a more formal look will have a bit more maintenance in controlling that spread.
The abundant flowers look like bluish-purple puffballs on the top of the stems. The color is unusual and adds a striking touch in the garden. The bloom season is mid-summer to mid-fall. Butterflies are frequent visitors, making this an excellent addition to your butterfly garden.
Blue mistflower has a full rounded form and will grow to 3 feet under optimum conditions. Leaves are opposite and have a triangular shape. Growth and blooming is best in full sun to part sun conditions.
Give it a try!
0