The burrowing owl, Athene cunicularia, is quite the character in Florida's landscape. This compact bird of prey is Florida's only ground-nesting owl species.
Burrowing Owl Identification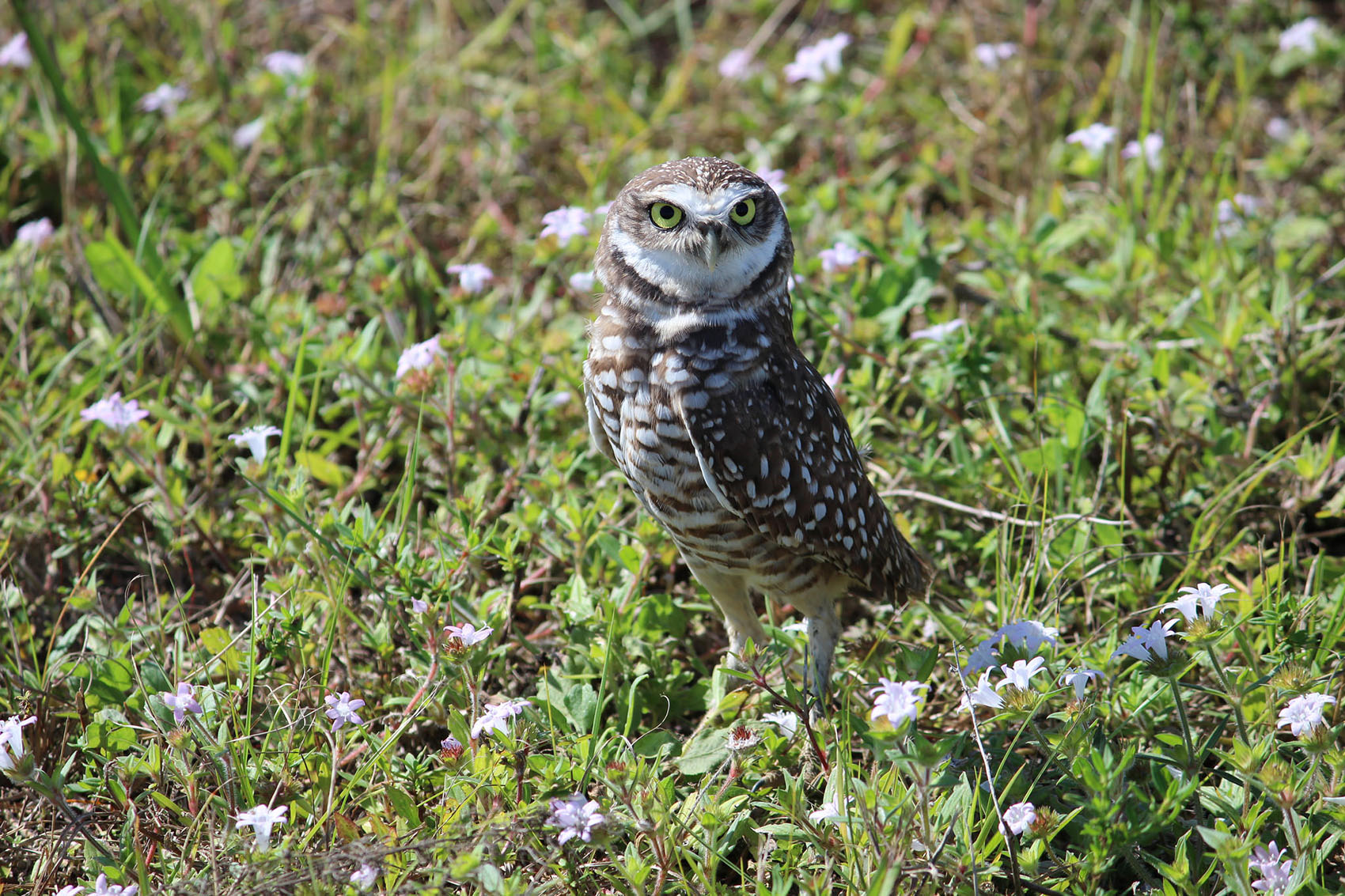 Burrowing owls are easily identified by their long legs and by their habit of being found on the ground. Burrowing owls are usually less than 9 inches tall with a wingspan of up to 21 inches. The have large yellow eyes topped with bold white eyebrows. Overall, burrowing owls are mottled brown and white with patches of sandy colored feathers on their chest and under their tail. Additionally, when compared to the eastern screech owl, burrowing owls have a "flattened" head without ear tufts.
To hear a burrowing owl's call, visit the Cornell Lab of Ornithology webpage.
Behavior and Diet
If you're a bird, why would you willing choose to run around on the ground and make a burrow? Don't be fooled, burrowing owls can fly! That said, they spend most of their time on the ground, on low perches, or in their underground burrows. Most of their flying is to and from low perches near their burrows. These perches, small shrubs or fencing, provide a better view of the surrounding area.
Burrowing owls are active during the day, unlike most owls, when they are standing near their burrow or watching the surrounding areas from a nearby perch. Burrowing owls feed primarily on grasshoppers, beetles, and other insects like cockroaches and mole crickets. Given the opportunity, they will also eat small lizards and other reptiles, amphibians, or small mammals like rodents. The owls can hover in mid-air while hunting.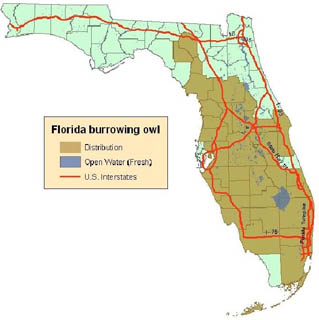 Burrowing owls live as single pairs or in colonies of several pairs and use their burrows year-round. Burrowing owls will dig their owl burrows or use abandoned gopher tortoise burrows. Burrows are typically 4-8 feet in length.
Range and Habitat
Burrowing owls live in Florida year-round. They are also found year round in parts of the American Southwest, Mexico, Central America, the Caribbean, South America and can be found in the American Mid-West during the summer breeding season.
Burrowing owls rely on open habitat, like prairies, found across peninsular Florida. While the species' local populations are considered to be spotty and uncommon, some areas are seeing an increase in populations due to human-created habitats like pastures, golf courses, sporting fields, and airports.
How can YOU help?
Burrowing owls are a Florida Threatened Species. That means that they, their nests, and their burrows cannot be taken, held, or sold without a permit. Additionally, the Migratory Bird Treaty Act protects the owls themselves, their young, and their eggs.
If you have burrowing owls in your area, consider taking one of the following conservation actions recommended by Florida Fish and Wildlife Conservation Commission:
Install a T-Perch near existing burrowing owl burrows to satisfy the owl's desire for an elevated view of the area. Furthermore, the perches make it easy to spot burrows from afar, thereby reducing the chances of a lawnmower or other vehicle collapsing the burrow. Additionally, you can use wooden stakes and some flagging tape to mark burrows. If these actions are to be on property you do not own, be sure to landowner permission first.
Reduce the use of insecticides near burrowing owl populations to reduce the chance of inadvertent owl poisoning. Remember, burrowing owls feed on insects.
If owls are known to be nearby and habitat is scarce, you may be able to attract a breeding pair to use your residential lawn by removing a 1-2 foot circular section of sod, exposing the sandy soil below. You could make this area even more attractive by starting the burrow and piling the sand near one side of the circle. Furthermore, add a T-Perch to help attract attention to your primed burrow location.
Report malicious destruction or harassment of burrowing owls or their nests. 1-888-404-FWCC (3922)
To learn more about Florida's Owls, consider attending or watching a recording of our Wildlife Webinars. Read about 2017's Wildlife Wednesday Webinars by clicking here.
Sources:
https://www.allaboutbirds.org/guide/Burrowing_Owl/id
http://myfwc.com/wildlifehabitats/profiles/birds/owls/burrowing-owl/
http://myfwc.com/wildlifehabitats/imperiled/profiles/birds/burrowing-owl/
https://www.allaboutbirds.org/guide/Burrowing_Owl/sounds
https://www.flickr.com/photos/myfwcmedia/33946551623/in/album-72157683911101306/
0