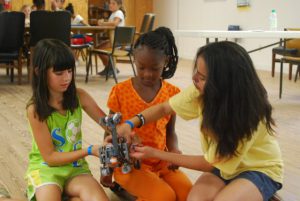 With the end of the school year approaching, many parents are puzzling over what to do with their children during the 8-10 weeks of summer vacation. Fortunately, 4-H has the solution to bust summertime boredom and extend learning while exploring a variety of topics- such as sewing, gardening, culinary arts or even robotics and engineering. 4-H camps are different from most other camping programs because they are framed around the essential elements of positive youth development and are intentionally structured to promote the development of life and workforce skills such as communication, decision-making and appreciation of differences. 4-H camps are staffed by caring teen and adult volunteers who have been screened, oriented and trained according to federal and state law, and incorporate best practices for risk management to insure a physically and emotionally safe environment. The connection of 4-H to land grant universities like the University of Florida also means that camp curriculum is based on the best knowledge available about any given project utilizing inquiry and learn-by-doing methods.
Below you can find a list of day camps that will be offered throughout the Florida panhandle. Counties also offer week long overnight camps at Camp Timpoochee or Camp Cherry Lake. In addition to camp, 4-H offers overnight leadership experiences for middle school and high school youth, such as Intermediate State (June 2-4th), 4-H Legislature (June 26-30th), and 4-H University (July 31-August 3rd). Click on the county links below for more information or contact your local UF IFAS County Extension Office.
https://www.youtube.com/watch?v=gbdw3GW2-I8.
Tailgating Grilling Workshop, June 5-9, 1pm – 5pm
Bots by the Bay, July 5-7, AF youth (active duty, guard, reserve or retired) age 13-15, 8am-6pm
Bots by the Bay, July 10-14, AF youth (active duty, guard, reserve or retired) age 16-18, 8am-6pm
Beginner Sewing Day Camp, June 13-15, 9AM -3PM
Breakfast Day Camp, June 21-22; 9AM-3PM
Tailgate Day Camp- July 5-9, 9AM-3PM
Intermediate Sewing Day Camp- July 18 and 20, 9AM-3PM
CSI Day Camp- July 17 and 19th, 9AM-3PM
Sew Fun, Sew Easy, June 26-30th, 8AM-5PM
Marvels of Engineering, July 25-28th, 8AM-5PM
Farm to Table: the Youth Experience, July 6th– 8AM-5PM
Youth Poultry Clinic- July 8th, 8AM-5PM
Poultry Perfection- June 2nd, 9:30AM-2PM
Cloverbud Crazy Art Day Camp- June 8th– 8AM-2PM
Tailgating Grilling Workshop- June 27-29th, 8AM-3PM
Animal Science Field Day- July 11th, 8AM-4PM
Junk Drawer Robotics Day Camp- July 25-27, 9AM-3PM
Poultry Perfection- June 2nd, 9:30AM-2PM
Tailgating Day Camp- June 5-7th, 8AM-12PM
Equine Clinic- June 13th, 9AM-3PM
Livestock Nutrition Workshop- June 29th, 9AM-2PM
Poultry Day Camp- July 7th– 9AM-3PM
Goat Workshop- July 13st- 9AM-3PM
Livestock Skillathon Camp- July 17th-19th, 8:30AM-11:30AM
Robotics Camp- July 25th-27th– 9AM-3PM
Wildlife Day Camp- July 10-15th
Cloverbud Camp- July 18-21st
8-9 year old camp- June 5-9th
Cooking 101- August 2-4th
Reading Makes Cents- June 14-16th
Farm your Backyard Camp- June 27th-30th, 9AM-4PM
Sewing for All Skill Levels (FULL- call to be placed on the waiting list)
Junk Drawer Robotics Day Camp- July 25-27th, 9AM-4PM
Wildlife Explorers Camp- July 10-14th (FULL- call to be places on the waiting list)
Tailgate Grilling Camp- June 27-29th– (FULL- call to be places on the waiting list)
#Adulting- June 15, June 22, July 6, July 13th– 9AM-4PM
Poultry Day Camp- July 7tth 9AM-5PM (FULL- call to be places on the waiting list)
Gardening for Cloverbuds (5-7 year olds)- July 14th, 8:30AM-12PM
Tailgate Grilling Workshop, June 27, 28 & 29
Entomology Day Camp- July 11-12th
Robotics Day Camp- July 25-27th
21st Century 4-H Day Camps- a variety of topics taught over the summer for youth enrolled in the 21st Century Learning programs at Tolar and Hosford schools
Cooking Camp- June 12-14th, 9AM-3PM
Gourmet Cooking Camp with Mr. John- June 15th-16th, 9AM-3PM
101 Sewing Camp- July 10-12, 8AM-5PM
All About Animals- July 24-26th, 8AM-2PM
Insect Camp- July 19-21, 9AM-3PM
Tailgator Day Camp- July 10-12th, 8:30AM-4PM
Sew Fantastic Day Camp- July 6th
Cloverbud Chefs Extreme Cuisine- June 7-8
4-H Extreme Cuisine- June 27th– 29th; 8:30AM-4PM
Ag-Ventures, July 18-19th, 8:30AM-4PM
Build a Bot Day Camp- July 25-27th, 9AM-4PM
Poultry Perfection Workshop- June 2; 9:30 am-2 pm
Tailgate Grilling Workshop, June 27, 28 & 29, 8 am-Noon
Beef Research Center Workshop- July 11; 8 am-2pm
0