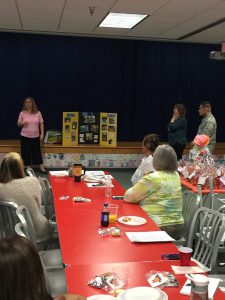 Did you know that 4-H and the military have a partnership to help support military youth? Most people don't know that there is a strong partnership between 4-H and all branches of the military to include the National Guard, and Reserves. 4-H clubs have been established on nearly every Army, Navy, and Air Force installation worldwide, while 4-H clubs in communities provide support to military youth living off base installations.
4-H clubs provide consistency and belonging, and an opportunity to develop life skills through a positive youth development framework. As a parent's military role causes frequent moves, 4-H clubs provide familiarity and stability throughout the military child's life. Military youth can find 4-H in every county in the U.S. and on overseas installations, making new transitions easier because they can continue on with their 4-H work. Research shows 4-H youth excel beyond their peers: 4-H youth are more likely to be civically active, make contributions to their communities, participate in science programs during out-of-school time, and make healthier choices. (Tufts University, 2012)
Military youth involved in 4-H are also able to participate in local, state, and national events and may qualify for military scholarships to help offset the cost of these events. Every year, 4-H'ers have the opportunity to participate in overnight camp in the Panhandle of Florida. One camp that is offered at Camp Timpoochee, located in Niceville, is Camp Corral. Camp Corral is an amazing week of non-stop fun and excitement in the great outdoors for children (ages 8 to 15) of our military heroes. It's for the children of brave soldiers who have been injured or fallen protecting our freedom, our way of life.
Read more about our military programs in last year's military volunteer post, 4-H Military Volunteers Hit the Bull's-eye. Parents and youth can get more information on the 4-H Military Partnership by contacting their school age program located on any military installation, visit http://florida4h.org, or contact your local UF IFAS County Extension Office.
0