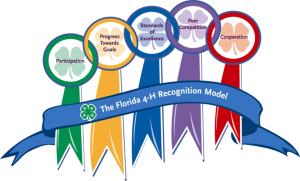 Recognition is a basic human need and can help build positive self esteem if handled in the right way and is an important part of the Florida 4-H Program. Whitney Cherry and Karen Miliffe shared tips for club leaders on showing recognition in 4-H clubs during the March Make a Difference Monday session earlier this month. If you missed it, you can view the recorded session at http://florida4h.org/madmondays.
Recognition is more meaningful when it occurs soon after it is earned and is related to a specific task. It can take multiple forms– appropriate recognition varies depending on age, past experience, family lifestyle, community and cultural heritage. Recognition motivates people to excel and take risks and in 4-H, it is the acknowledgement and affirmation of personal growth of an individual or group (such as a club). Awards are simply the things we give people or groups to symbolize our recognition of their accomplishments or effort.
The Florida 4-H Recognition Model includes five types of accomplishments or goals. The five types of accomplishments that 4-H measurers for recognition are:
Participation in educational experiences (certificates, t-shirts, participation ribbons). The requirements for recognition for participation in a 4-H event are well publicized and easy to achieve. These types of recognition can be earned many times and are usually not expensive, but valued.
Progress toward self-set goals. It is important for youth to learn to set goals and work towards them. 4-H project books are one way that we provide feedback on self-set goals. The club annual program is a tool for setting the collective goals of the club. As volunteers, we can assist youth with this by reviewing their goals frequently during the 4-H year, identifying what they have accomplished so far and helping them determine their next steps toward a goal.
Achieving standards of excellence. In 4-H standards are used in two ways:

Standards are established by subject matter and youth development specialists to provide a basis for young people to plan and work toward their goals
Professional staff and /or volunteers and young people work together to establish standards– such as dress code at 4-H University, expectations of 4-Hers in club meetings, desired behavior at 4-H events/ camp

Excelling in peer competition (judging contests, speaking contests, exhibits, animal exhibits and shows, portfolios, project book contests). Competition has long been a component in the 4-H program. 4-H strives to make competition an educational process and an opportunity to teach youth life skills. Peer competition is competing against one another's peers. Numerous competition exist form the local club level, county, district, state, regional and national. 4-H also provides opportunities for clubs to compete against other clubs with the Club Standards of Excellence and Community Pride programs. Keep in mind that competition is not suitable for all ages (members 5-7 years old) and competition rules and procedures should be clear.
Excelling in cooperation within a group (team or club awards or media recognition for service projects). From the beginning 4-H has encouraged young people to work together to learn. Cooperation engages young people in group experiences that are interdependent– face-to-face interactions, individual and group responsibility, group skills development. Cooperation involves everyone in the group and uses mutually agreed upon goals.
Recognition is a significant incentive to further learning. When properly used, it inspires young people to belong. Through caring adults and peers, in an inclusive and safe environment, recognition helps meets the needs of young people. Youth become and stay active in 4-H because they benefit. 4-H provides many opportunities for volunteers to make a difference in the lives of young people. If every young person could step into 4-H, imagine all the resourceful problem solvers, skilled workers, and capable leaders they'd become. That future is in our reach if we all lend our time and talents to guide the young people who will create it. Make the investment of a lifetime- become a 4-H volunteer, and inspire the next generation!
0