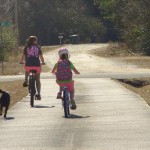 "School's out!" Time to head outdoors to play.
In their Physical Activity Guidelines, the Department of Health and Human Services, http://www.health.gov, recommends at least one hour of moderate to vigorous physical activity every day for overall better health. No worries, though. You don't have to do it all at once and what you and your family choose to do should be fun and keep your interest.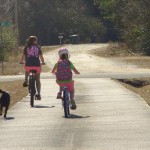 Here are a few reminders when staying physical:
Water, water, and more water – make sure you replenish your fluids. Try drinking your water with ice, fruit, bendable straws, or from bottles with funky-colored sleeves to keep it interesting. Keep plenty of fruits and veggies on hand for snacks to stay hydrated as well.
Apply, apply, and apply – sunscreen, that is. Set up a sunscreen station so everyone knows where to find the various bottles, sticks, and sprays of sunscreen. Small bottles of sunscreen with hooks that hang on belt loops are also becoming more readily available.
Pick the best time of day for you. For many, earlier in the day or later in the afternoon are a little cooler, which makes it easier to be outside. (Unfortunately, those are mosquitoes' favorite times of the day, too, so be sure to use protection against mosquito and other bug bites.)
Pick the right environment. Make sure you have some shady spots or have the ability to come indoors to cool off.
More water – water balloons, water squirters, and sprinklers are always fun. Poke holes in an empty plastic 2- liter soda bottle, attach a hose to the bottle opening, and hang it upside down to make a great outdoor shower.
So what are you waiting for? Go out and (safely) have some fun in the sun!
by BLOGS.IFAS

Posted: August 2, 2014
---
Category: Work & Life
Tags: Ideas, Living Well In The Panhandle, Simple
---
---