Florida-Friendly Landscaping is the Law!

It doesn't take expert gardeners or landscapers to create a Florida-friendly yard.  All it takes is a willingness to learn and a desire to build a beautiful yard that helps protect Florida's environment.  Florida-friendly landscaping is now part of state law. Florida Statute 373.185 prohibits government entities and homeowners associations from enacting or enforcing any governing document to prevent homeowners from implementing Florida-friendly landscaping (FFL) principles.  A guideline to ease the development of a manual can be found at this link on the Florida Yards and Neighborhoods website. "Florida-Friendly Landscape Guidance Models for Ordinances, Covenants, and Restrictions." 
Florida Statutes 482.1562 states that all commercial fertilizer applicators must have a license from the Florida Department of Agriculture and Consumer Services (FDACS) by January 1, 2014.  To get this license, each Green Industry employee must be trained in Best Management Practices, which teaches professionals how to implement FFL principles.  Additionally, to address water conservation Florida Statute 373.62 says the following: "Any person who operates an automatic landscape irrigation system shall properly install, maintain, and operate technology that inhibits or interrupts operation of the system during periods of sufficient moisture, regardless of when the system was installed".  Irrigation contractors are required by law to ensure that there is an operational rain shut off device on site before they can perform any services.  If it doesn't exist or isn't working, the contractor can be fined for not reporting the property owner or by completing the repair work without installing or repairing the rain shut off device.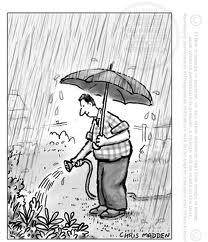 Fertilizing Appropriately and Watering Efficiently are just two of the nine Florida-friendly landscaping principles.  Right Plant, Right Place; Mulch, Attracting Wildlife, Managing Yard Pests Responsibly, Recycling, Reducing Stormwater Runoff and Protecting the Waterfront.are the other principles.  Utilizing landscape techniques that reduce the inputs that can negatively impact natural resources is the foundation of Florida-friendly landscaping.  By implementing the practices, the user saves money, reduces their workload and protects the environment.  Many of the Florida-friendly landscaping principles are common sense applications.  For more information visit the Florida Yards website.