Arriving home after work, the race against the clock begins. I have only two hours to get dinner on the table and to get my family fed, bathed, and in bed. But, what do I make for dinner? I need something that is quick, easy, and my family will eat.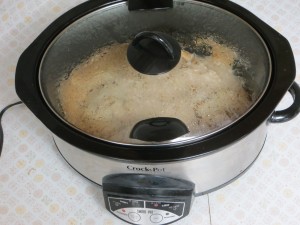 Preparing healthy meals at home doesn't need to take a lot of time. Planning will go a long way to help save you time. Good nutrition doesn't just happen; you have to plan for it. Start by creating a weekly meal calendar and shopping list. This will help you save time and money. For mealtime emergencies, keep a well-stocked pantry and plenty of frozen fruits and vegetable on hand in the freezer.
Choose foods with faster cooking times: ground meat, tender cuts, chops, or fish. Vegetables and meat cut into small pieces will cook very quickly in a stir-fry. Canned and frozen vegetables make quick side dishes.
Make extra food when you have time. On weekends, make double or triple batches to stock your freezer with main dishes. Soups, sauces, and casseroles work well to freeze for later use. Cook dried beans, meat, and pasta to freeze for use in meals during the week.
One-dish meals like fajitas, salads, sandwiches, and casseroles are a great way to include a variety of nutritious foods at dinner time. Use a slow cooker to have dinner ready when you get home. One-dish meals save time on clean-up, too.
Save time and money by incorporating "planned-overs" into your menus. Pack leftovers for lunches the next day. Use leftover chicken in salads, soups, quesadillas, or pasta dishes.
Preparing healthy meals may take some planning and effort but can be quick and easy. Now, if I could just figure out what to do about my picky eater…
To learn more about healthy cooking, sign up for the Fabulous Foods cooking series beginning in August. For more information about the cooking class or making healthy meals, contact the UF/IFAS Leon County Extension office at 850-606-5200 or contact Kendra Zamojski at Hughson@ufl.edu
_________________________________
Create Your Own Casserole or One-Dish Meal:
It is easy to make a casserole or one-dish meal with items that you have on hand. Choose one or more ingredient(s) from each of the following categories:
1½ to 2 cups cooked or canned meat, chicken, fish, eggs, dried beans, peas
1½ cups vegetables (e.g. tomatoes, green beans, potatoes, broccoli, peas, cabbage)
1 to 1½ cups cubed bread, cooked rice, or pasta
1 to 1½ cups liquid ingredients (e.g. cream soup, tomato soup or sauce, cheese sauce, white sauce, evaporated milk, or shredded cheese plus milk)
Other optional ingredients for flavor (e.g. onion, spices, herbs)
Mix ingredients thoroughly and cook in the oven or on the stove top. If you cook in the oven, place the ingredients in a covered casserole dish and add optional toppings, such as bread crumbs, cracker crumbs, or Parmesan cheese. Bake at 350°F for 45 minutes. Uncover the last 15 minutes to brown the topping. Serve hot.
If you cook this one-dish meal on the stove top, place the ingredients in a large skillet. Simmer until bubbly. An optional topping of Parmesan cheese or croutons can be added to each serving. Serve hot.
0