Tomatoes are the most popular vegetable in backyard gardens. With each plant capable of producing 8-10 pounds of fruit or more, good gardeners may have more tomatoes than they can eat. If you lack a green thumb, tomatoes are easy to find at farmers markets, roadside stands, and even grocery stores.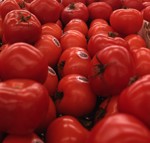 Botanically, the tomato is a fruit but in 1893 the U.S. Supreme Court declared the tomato a vegetable because of a tariff dispute. Nutritionally, tomatoes are low in calories and fat and high in vitamin C and potassium. They are good source of vitamin A in the form of beta carotene. Tomatoes are also high in the antioxidant, lycopene. Research has shown that lycopene may reduce the risk of heart disease and several types of cancer. Lycopene is more easily absorbed from cooked tomato products. Eighty percent of the lycopene in the American diet comes from tomato products.
There is nothing tastier than a freshly picked tomato. Choose tomatoes that are firm, fragrant, and brightly colored. Avoid bruised tomatoes that are too soft or too hard. Store tomatoes at room temperature, and only refrigerate tomatoes to keep them longer. Fresh tomatoes are good in salads, on sandwiches, or tossed on scrambled eggs, nachos, or in other common dishes like macaroni and cheese.
Tomatoes are easy to preserve by freezing, drying, or canning.
FREEZING
Frozen tomatoes are mushy when thawed but can be used in soups and casseroles. Wash and dip tomatoes in boiling water for 30 seconds to loosen skins. Core and peel. Freeze whole or in pieces. Pack in freezer containers, jars, or packaging, leaving 1- inch headspace.
Cooked Puree. Wash, peel, core, and cut tomatoes. Cook until soft. Press through food mill or sieve. Cool and pack into freezer jars or containers. Concentrate the puree by boiling until amount is reduced in half.
Juice. Wash, core, peel, and cut tomatoes. Simmer about 5 minutes; put through a sieve or food mill. Cool and pack as above.
DRYING
Small cherry tomatoes or tomatoes with a high solid content, such as Romas, work best for drying. Dried tomatoes are good in soups, stews, sauces, and salads. Tomato leather can be eaten as is, added to soups for flavor, or a little water can be added to the leather to make a savory tomato sauce. Steam tomatoes for 3 minutes or dip tomatoes in boiling water for 1 minute to loosen skins. Chill in cold water; slip skins off. Cut into sections about 1/2 inch wide or slices; cut small tomatoes in half. Dry tomatoes in a food dehydrator for approximately10-18 hours (length of time depends on initial moisture content). Follow the manufacturer's instructions.
CANNING
Tomatoes are a low-acid food and must be canned carefully to avoid the risk of botulism. To acidify tomatoes, add 1 tablespoon bottled lemon juice, 1/4 teaspoon citric acid, OR 2 tablespoons vinegar per pint jar. For quarts, add 2 tablespoons bottled lemon juice, 1/2 teaspoon citric acid, OR 4 tablespoons vinegar per jar. The acid can be added directly to each jar before filling with the product. Add a little sugar to offset any strong acid taste. Tomatoes can be processed using a boiling water bath or a pressure canner. Use only tested recipes and current canning recommendations from the National Center for Home Food Preservation (http://nchfp.uga.edu/).
Whole or halved raw tomatoes packed in water:
Add two tablespoons bottled lemon juice to each clean quart jar and fill with peeled, raw whole or halved tomatoes. Cover tomatoes in jar with hot water leaving ½ inch headspace. Wipe off jar rim. Adjust pretreated lids and screw ring onto jar, finger tight. Process quarts for 45 minutes in a boiling water bath. If you use a dial-gauge pressure canner, process for 10 minutes at 11 pounds pressure With a weighted gauge canner, process 10 minutes at 10 pounds pressure.
RECIPE:
Fresh Garden Salsa
The ingredients can be finely diced or use a medium chopped consistency for chunky salsa. Serve with tortilla chips or use as a side dish with grilled meat or anywhere you want a bright, tart, savory accompaniment.
2 large ripe, red slicing tomatoes, cored and chopped
1 small white onion, chopped
1 green onion, top included, chopped
1 to 3 jalapeno peppers, finely chopped
1/4 cup cilantro leaves, minced
Juice of lime
teaspoon salt
1. Using a serrated knife, chop tomatoes. If using plum tomatoes, add 2 tablespoons water.
2. In a medium bowl, toss together the tomatoes, onions, peppers, and cilantro. Squeeze lime juice over the mixture and sprinkle on the salt. Allow to rest 30 minutes before serving to allow salt to draw juice from the tomatoes. Stir again just before serving. Makes about 2 cups.
For more information about growing or preserving tomatoes or other produce, contact the UF/IFAS Leon County Extension office at 850-606-5200, or your local Extension office.
Author: Kendra Zamojski, County Extension Director and Family and Consumer Sciences Agent, UF/IFAS Leon County Extension
0