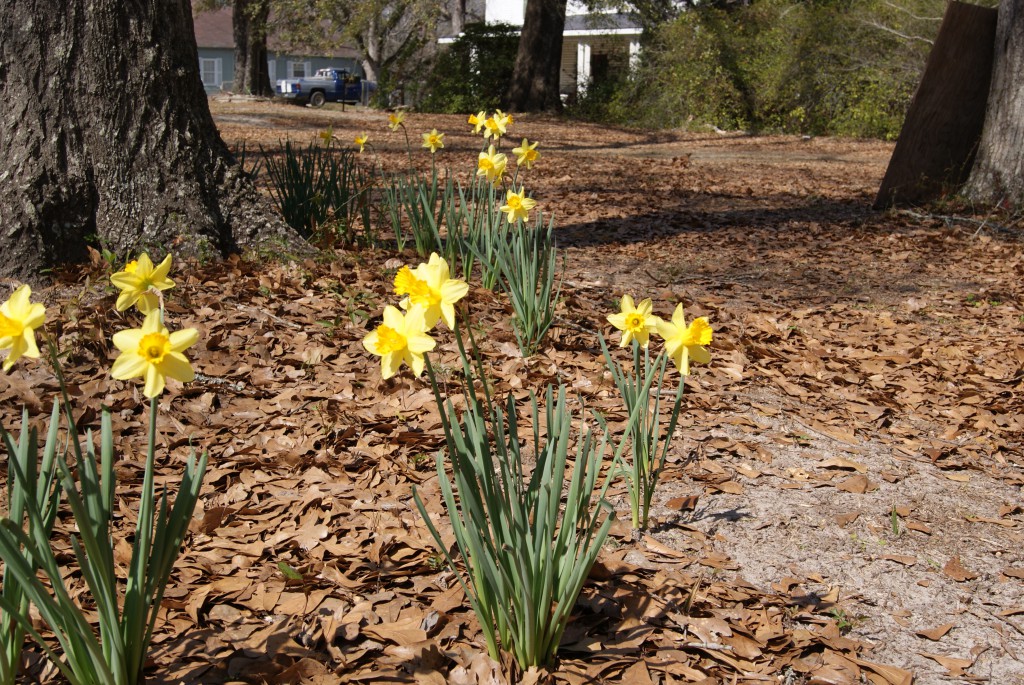 Daffodils are blooming in the UF/IFAS Leon County Extension Demonstration Garden. Daffodils, including paperwhites and narcissus, are in the Amaryllis family and have been cultivated for centuries. The Greeks and Romans admired the beautiful flowers and the plant's scientific name, Narcissus, is shared with the Greek mythological character who couldn't stop staring at his reflection. Many old homesites and historical sites in north Florida have daffodil bulbs that have continued to bloom since the early 1900's. Daffodils can be seen in the winter to early spring and many varieties are hardy in north Florida.
While this is the time for enjoying their flowers, daffodils are planted in the fall. If you've caught yourself staring at the beautiful flowers and would like to plant them in your garden, you have time to prepare for next year. Daffodils can be planted once the soil has cooled and do best in sites with mostly sun, but a little shade is okay. Be sure to choose planting areas that don't collect water. Locations with a slight slope are perfect.
Bulbs can be ordered from catalogs or purchased at local nurseries. Varieties (Division in parenthesis) good for our area include 'Carlton' (Large Cupped), 'February Gold' (Cyclamineus), 'Trevithean' (Jonquilla), 'Erlicheer' (Tazetta), and paperwhites (Tazetta).
Once the soil is cool (October to November), bulbs are planted four to six inches deep and should be well watered following planting and, if a dry winter, watered through flowering. Be careful not to overwater, as wet soil promotes rotting of the bulb. After flowering and warmer temperatures, the leaves will begin to fade. Do not remove leaves or flower stalks until completely brown and dry as they provide nutrition to the bulb for storage the next year.
After several years, the bulbs may be divided by digging and lifting the bulbs and separating those that easily break apart from each other. It is best to replant the divided bulbs immediately.
Interesting facts about the daffodil include:
The bulb has the ability to adjust itself in the soil to reach optimal soil depth and temperature.
The term 'tazetta' is thought to come from the Italian word for the small cups used for drinking espresso coffee. Next time you stare at the flowers, notice how they resemble a small cup in a saucer.
For more information on growing daffodils in Florida, visit edis.ifas.ufl.edu or contact your local UF/IFAS County Extension Office.
0