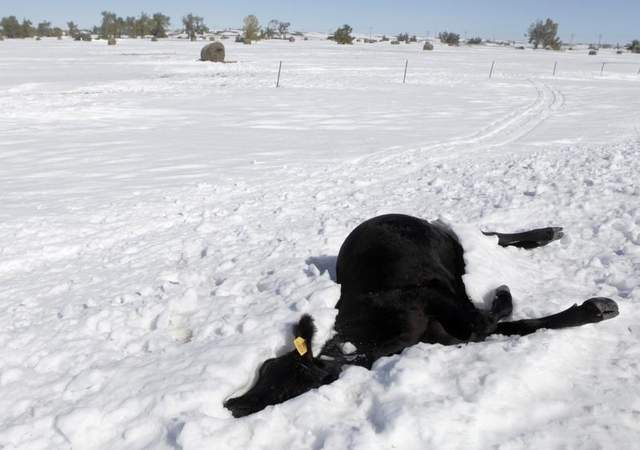 On October 4th and 5th, as Panhandle residents watched the Weather Channel concerned about Tropical Storm Karen, you may have seen some footage that discussed the two to four feet of snow that fell in the Black Hills of South Dakota. What you may not have heard was how damaging the so called "Winter Storm Atlas" blizzard was to ranchers with devastating losses of livestock from this storm. An estimated 15-30 thousand head of beef cattle were tragically killed, as ranchers helplessly waited out the storm at home with their families. Not only are ranchers dealing with the pain of losing animals they reared and cared for, but most have no insurance to cover their substantial financial losses.
The purpose of this article is to share what happened, and also provide information on how to donate to the organization created to assist these ranchers with financial recovery,
What Happened?
"On Oct. 4, after a week of 80-degree temperatures, heavy rain shifted into 36 hours of unexpected whiteout conditions that left two-four feet of snow in some areas. The blast of snow, rare for early October, was the fourth-heaviest ever recorded in South Dakota"
Susan Sanders, Meteorologist, National Weather Service in Rapid City

"Cattle died of hypothermia or suffocated under snowdrifts after a "perfect storm" brought rain, then record snowfall and strong winds to the portion of the state west of the Missouri River. It's anyone's guess how drastic this loss will be. The cattle were soaked to the bone. Then the wind and really heavy snow started – it just clung to them and weighed them down. Many of them just dropped where they were walking."
Silvia Christen, Executive Director, South Dakota Stockgrower's Association

"15,000 to 30,000 head of livestock died in the early autumn blizzard that hit western South Dakota two weeks ago."
Dustin Oedekoven, South Dakota State Veterinarian
To better understand the conditions and why this took place Dave Ollila, South Dakota State livestock Specialist, shared the following information on the South Dakota Extension iGrow blog site.
The high death loss from the early October blizzard in South Dakota has producers and the public wondering "How could this happen?" We tend to think about winter storms, extreme cold and other stressful conditions that cattle, horses and sheep on western range often successfully cope with and ask "Why was this storm so much worse?" A number of factors all happened simultaneously to create a situation of very high energy needs and high stress in cattle and other livestock. Any one of the following factors could have an impact by itself, but when all combined, it was simply too much for the animals, and they most likely died from hypothermia.
The contributing factors included:
Animals were not adapted to winter conditions. Cattle will grow a thicker hair coat in response to shorter days, and cooler temperatures. But temperatures prior to the storm were in the 70°'s. For cattle, this meant they had thin hair coats and little protection from the elements.
Snow was preceded by hours of rain. A wet hair coat reduces the "insulation" that the hair and hide provide and increases the rate of heat loss from the body. For example, a cow with a wet hair or summer hair coat has critical temperature of 59°, while one with a dry, heavy winter coat has a critical temperature of 18°. The critical temperature is the temperature at which the animal must increase its metabolism, or burn its own energy, to maintain its body temperature. The further the effective temperature is below the critical temperature, the more energy the animal must use to maintain its body temperature. See "Spring Storms and Cold Stress" for more detailed information.
Winds in this blizzard were recorded up to 60 mph. Both research and practical experience show what a difference "wind chill" has on effective temperature. The range and pastures that are grazed during summer months are typically "open" – without constructed windbreaks, and usually very few natural windbreaks. With the storm so early in the year, most livestock were still out on summer range and pastures. Thus, animals felt the full intensity of the wind.
The hair coat, temperature, moisture and wind combination meant the animals' energy needs to maintain body temperature were much higher than even during a "normal" winter blizzard.
Coupled with the very high energy needs of the animals was the fact that most of the feed the cattle were currently eating was quite low in energy. Cattle grazing lush green grass makes a beautiful picture, but the reality is that lush, rapidly growing green grass is very high in moisture and low in energy per pound of feed consumed. The unusually large rainfall in September had created this rapidly growing grass in many areas. Under normal weather conditions, cattle were able to consume large quantities of grass to meet and even exceed their energy needs. But under blizzard conditions, it was not possible for them to consume adequate amounts of forage to meet their much higher than normal energy needs.
To try to escape or reduce the harsh wind, cattle will walk with the wind and seek areas of shelter, such as draws and ravines. Walking through heavy, wet and deep snow increased their energy needs even more. The severity of the snow fall also meant that the animals were walking blind, and could easily fall in to gullies, walk into a stock dam or creek, or gather into a fence corner and face crushing and trampling.
With all the factors above combining effects, exhaustion and the inability to maintain their own body temperature finally caused cattle to simply stop and succumb to hypothermia. It's important to note that the factors above were beyond the control of ranchers, owners, or anyone else.
To read some individual rancher accounts of the hardship of this blizzard, got to: http://realamericancowboymagazine.com/articles/ and read the article called Perfect Storm.
How Can You Help?
The South Dakota Rancher Relief Fund was established on October 8, 2013 by Black Hills Area Community Foundation to provide support and relief assistance to those in the agriculture industry impacted by the blizzard of October 4-7, 2013. The fund will be administered by BHACF in cooperation with the South Dakota Stockgrowers Association, the South Dakota Cattlemen's Association and the South Dakota Sheep Growers Association for the direct benefit of the livestock producers impacted by this devastating blizzard.
[important]To donate to the Rancher Relief Fund, visit "Rancher Relief Fund."
Donors can also mail checks to:
Rancher Relief Fund, PO Box 231, Rapid City, S.D. 57709.[/important]
Video New Coverage of the Blizzards Devastating Effects
The video from CBS does have a brief commercial before the news story begins.
The video from CNN does have a brief commercial before the news story begins.

The video from Legoland News does have a brief commercial before the news story begins
0