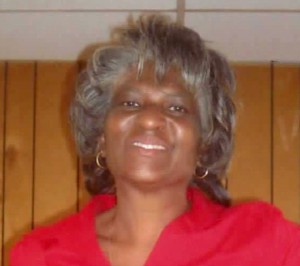 What keeps a volunteer motivated to serve for more than 20 years? If you ask Mrs. Ruth Ann Scurry, a Jefferson County 4-H club leader, she will tell you it's about making a difference in a young person's life! Mrs. Scurry raised three sons who were active 4-H members. Her son Kenya even competed at the state level with his demonstration on small engines. Her sons benefited so much from the 4-H program that when her youngest son graduated, she decided to start a 4-H club at her local church called the Hickory Hill 4-H Club. Twenty years later, she still leads this club which focuses on healthy living programs, as well as sewing, gardening, fishing, and consumer choices.
When asked what advice Mrs. Scurry has for club leaders, she shared, "you have to remember to keep the lessons you teach practical and hands on. When teaching nutrition, I show them what a portion size is and remind them to each like a king (breakfast), queen (lunch), and pauper (dinner). If you use examples and language they understand, they will remember. You also have to keep it fun. I make sure to plan a fun treat every now and then to keep the kids motivated and surprised and it works every time. They never want to miss a meeting!"
When asked what is most challenging about being a volunteer today, Mrs. Scurry says, "Many young people today live with only one parent, grandparent, or other relative. These families need help raising their children. 4-H encourages them to make good choices and helps them feel like they belong to an extended family- a 4-H family. 4-H helps them learn how to follow rules and to respect others. Being a good role model is important too. It's so true that 'it takes a village to raise a child.'"
Mrs. Scurry has helped build a "4-H village" of caring adult volunteers for her club. She offers simple yet sage advice on how to do this: "Get everyone involved." She involves everyone from 5-years olds to 83 years old as members and volunteers in her club. She empowers them to make a difference in the lives of 4-H youth by finding out what their strength is, and then asking them to share that strength with the club through an activity, field trip, demonstration, or project.
Mrs. Scurry has not limited her service to just her club. She has also volunteered as a chaperone for 4-H Camp Cherry Lake, the North Florida Fair, and even spearheaded a volunteer appreciation luncheon for local volunteers and community leaders.
Mr. John Lilly, the Jefferson County Extension Director stated, "All of Ms. Scurry's hard work and dedication affects the entire Jefferson County 4-H Program in a positive way. We are fortunate to have such a loyal and faithful volunteer leader."
In honor of National Volunteer Appreciation Week, 4-H in the Panhandle is sharing stories of inspirational 4-H volunteers every day this week. if you find Mrs. Scurry's story inspiring, consider becoming a volunteer yourself! Nearly 3,000 volunteers in the Florida panhandle are making a difference in the lives of more than 28,000 youth. In 4-H, you can leverage your experience and skills to help a young person find their own passions and interests. 4-H needs volunteers like you to inspire the next generation. To learn how to become a 4-H volunteer, contact your local Extension Office or visit http://florida4h.org/volunteers.
Your opinion matters to us! Please take this short survey to help make our blog better. https://ufl.qualtrics.com/SE/?SID=SV_3gtLKjqia3F75QN
0