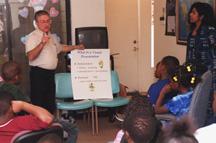 Have you ever attended a meeting for the first time and felt a little out of place? Do you remember that nervous feeling; the pit in your stomach of not knowing anyone, not sure if you belonged? Creating a welcoming environment in 4-H clubs and events helps members and volunteers have a sense of belonging. A sense of belonging is one of the Essential Elements of Positive Youth Development. Last month, Georgene Bender and Jon Mayer shared ideas for creating a welcoming environment in your 4-H club during our February Make a Difference Monday session.
1. Welcome new members– have a welcome committee for your club. This committee can be a group of members or even a 4-H family that is willing to come to the meeting early to welcome any new members. They could even prepare a welcome packet with 4-H enrollment information, club brochure, calendar, 4-H pen or pencil, or even a club t-shirt. You can ask your 4-H agent for some ideas or items to include in the welcome packet. There are many inexpensive "4-H trinkets" for $1.00 or less available at the 4-H Mall. Assigning 4-H families to mentor new 4-H families is also a great way to mentor and orient new members.
Plan "get acquainted games"- it's difficult to feel comfortable in a group when you don't know people well. Leading get acquainted activities during club meetings (especially at the beginning of the club year) will help establish a friendlier club environment. Ice breakers, get acquainted games, or even roll calls that ask questions about member's interests (answer roll by making the sound of your favorite animal) can help members get to know each other better.
Encourage engagement– a great way to get new members involved is to use the 4-H Clover worksheet to help plan the club year. If the member joins after the club planning meeting, get them involved in a committee. Smaller committees are less intimidating and can help new members feel like they belong and have something to contribute.
What will you do this year to help make new members feel welcome? Leave us a comment below! To learn more about creating welcoming environments in 4-H clubs, you can view the full, 1-hour workshop online at http://florida4h.org/madmondays.
0