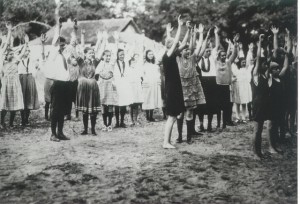 For many Florida 4-H members, attending a week-long overnight camp at one of the four Florida 4-H Camping centers is a rite of passage. For nearly 90 years, 4-H youth and volunteers have been making their way to the shores of the Choctawhatchee Bay, home to Florida's oldest camp, Camp Timpoochee.
Camp Timpoochee was started in 1926 when Jackson County 4-H members auctioned off their poultry flocks at the train station in Marianna to raise money for the camp. During the early years, many 4-Hers paid for their week of camp by bringing chickens and other goods. In those days, camp was a vacation from working on the farm in the summer heat and a chance to meet other youth. Over the last decades, several 4-Hers have even met their future spouse at 4-H camp!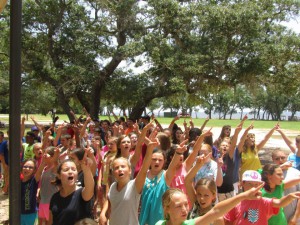 Today, camp is still a safe environment where youth feel like they belong, learn independence, mastery, and generosity towards others. It is also a vacation from the peer pressure and bullying that many youth experience at school. One camper shared "I love coming to 4-H Camp, because it is the one week where I feel like I belong and no one makes fun of me or puts me down." Other campers look forward to camp because it is an opportunity to do things they don't normally get to do, like fish, shoot a bow and arrow, build and launch a rocket, or paddle a kayak.
How do we ensure that Camp Timpoochee will be around for future generations? It pretty much all boils down to volunteers. As long as there are volunteers working with Extension to support 4-H clubs and youth, donors will continue to support the work they do to make sure that future generations can learn valuable life lessons at camp.
How many generations of your family have attended 4-H Camp Timpoochee or Cherry Lake? Let us know in the comment box below. Feel free to share your favorite thing about camp on our blog or on Facebook. The family with the most interesting story will be featured in a future blog post!
To learn more about the Florida 4-H camping program, visit http://florida4h.org/camps_/. If you have a special place in your heart for 4-H Camp Timpoochee, consider serving as a 4-H Camp Volunteer, or even making a donation so that youth can enjoy the same experiences as generations before them. Florida 4-H Camps are also available to host family reunions, church retreats, corporate functions, and other events. You can help support Camp Timpoochee by scheduling your next event there. For more information, contact Heather Kent at hckent@ufl.edu.
0