Trees are a landscape asset for many homeowners. When a new tree is installed in our landscapes, we can't wait for it to mature to provide shade or landscape interest. The heartbreak for many homeowners comes when this important part of their landscape, begins to decline five to ten years after establishment. We often consider a pest as the cause. The common culprit is often hidden below the mulch and soil and is easily preventable.
When larger specimen trees are installed in residential and commercial landscapes, they may be delivered with materials that help hold the rootball in place. Strapping often runs over the rootball and when trees are young is several inches away from the trunk. Installers or homeowners often do not cut the strapping during installation.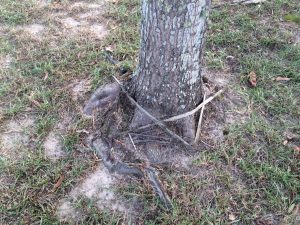 Over the years, tree trunks will grow in diameter and eventually reach the strapping. Because the strapping is still firmly in place, it can cut into a growing tree, resulting in girdling. Although many trees try to overcome the injured area by forming new wood over and around the girdling, this is a major stress that interferes with water and food movement in the plant. What we see is a tree that may be slower to leaf out in the spring, a thinning canopy, and twig dieback. These symptoms may be confused with another cause since the strapping is normally hidden from view.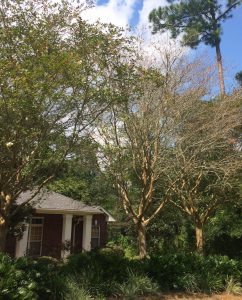 If you do have a tree that exhibits the above listed symptoms, it never hurts to look at the trunk and root flare just below the mulch and soil surface. If you find strapping still in place, cut it so that it is loose. Depending on the severity of the problem, this may not save the tree but it is worth a try on your important investment.
0