The Southern magnolia (Magnolia grandiflora) has always been a favorite tree since it is associated with my childhood home in Tennessee. I always enjoyed the evergreen leaves and large white flowers. In my parent's yard, the southern magnolia had branches to the ground that allowed the large leaves to stay hidden in a self- mulching area. I never recall the tree begin called messy because of this growth style.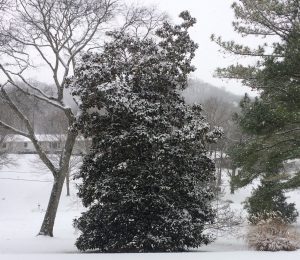 Many landscapes today may not have room for a southern magnolia that can grow an average of 60 feet in height with an average spread of 25 feet. Because it' qualities are still desirable, nursery professionals have developed southern magnolia cultivars that are very popular as landscape features due to different growth habits, leaf sizes, and hardiness to our area's weather. Although the cultivars will be different from the old favorite southern magnolia in growth form and size, homeowners should still do their homework to make sure trees are located in spots for plants to reach proper height and width growth. Also, like I mentioned for my parent's tree, many of the new cultivars look best if the lower limbs are not removed.
If you or your landscaper are considering a Southern magnolia cultivar, here are a few details about some you may find available.
'Little Gem' dwarf southern magnolia has been the go-to magnolia for new landscapes. The dark green leaves are smaller and the plant will be more compact than the traditional southern magnolia. It is often misplaced in landscapes because of these features. Trees still grow about 25 feet high with a spread of 15 feet.
'Bracken's Brown Beauty' is a very attractive magnolia when given room to grow. Foliage is very attractive with shiny green above and brown on the undersides. This plant can grow 40 to 50 feet in height with a spread averaging 20 feet. Plan not to prune lower limbs to maintain a beautiful form.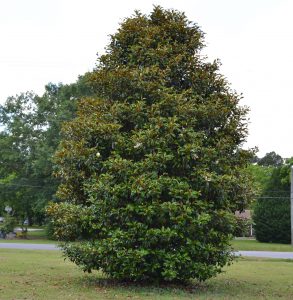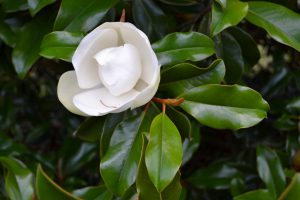 'Southern Charm' magnolia, registered as Teddy Bear is also a compact plant. It grows upright to about 20 feet with a spread about 15. You still have the beautiful green and brown leaf color along with 6 inch wide flowers.
0