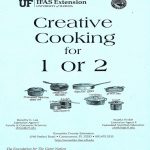 A large and ever-growing number live the single life these days. You have a lot of company and something in common: freedom of choice. Cooking for one or two can be creative and nutritious. Whether you're a novice cook or your family has grown and moved out, and, once again, you're solo cooking…it still can be rewarding! Rewards? They can be summed up in one word: freedom—freedom to plan the meals you want and freedom to enjoy them when and where you want.
Getting Ready to Cook for ONE or TWO
"Planning…shopping…storing…there's so much to do even before I cook. Is it worth it for one or two?" Effort? Yes. But worth it? Definitely—who is more important to you? Call it "challenged" coupled with "just rewards." Mostly, the challenge involves organization, planning, and nutrition. Here, then, is a Master Plan for meeting the challenges of "Solo-Cooking:"
Plan menu—preferably for a week's worth of meals you'll be preparing:
Write out your menu
A grocery list is a must
Survey your kitchen for basic cooking utensils:
Non-stick skillet for stir-frying or pan broiling with little fat
Vegetable steamer so you don't boil away all the vitamins
Two heavy-gauge stainless steel sauce pans: a small one for soups and sauces and a medium one for cooking pasta or steaming vegetables
A paring knife for chopping and dicing and a large knife for cutting meats
A wooden spoon that won't damage non-stick pans
Measuring cups and spoons
Microwave cookware if you have a microwave oven (a microwave is a big plus for solo-cooking…it saves time and energy (your own and the local utility's)
Colander and wire whisk
Your cabinets don't have to be bulging with exotic ingredients; just make sure you have basics on hand:
Olive and vegetable oils for cooking and salad dressings
Low-sodium bouillon and baking powder
An assortment of herbs and spices
Catsup and jelly
Nonfat dry milk for recipes that call for milk
Frozen commercial microwave dinners make for quick and easy meals. Read nutrition labels and select low-fat meals that meet the following criteria:
No more than 10 – 15 grams of fat
1,000 or less mg sodium per serving
Frozen side dishes with 5 or less grams of fat and 400 or less mg sodium per serving
The frozen entrée also does not provide a balanced meal. Round it out with steamed or raw vegetables or a salad, whole grain bread, and fruit for dessert.
Once you have the basic strategies down and shopping under control, cooking for one or two can be a simple process. But what can you do if you're faced with: (1) A tight budget and no food processor or microwave oven (2) Little time to cook and/or (3) An empty nest that makes mealtime a lonely time? Take Heart! You can meet these challenges with success. Here are some ways to make cooking for one or two easy and fun.
Stir fry pre-chopped vegetables from the frozen section or from the grocery salad bar and serve with rice and beans.
Steam pre-chopped vegetables and season with spices or low-sodium bouillon.
Use a slow cooker…dump diced chicken, vegetables, and spices into the slow cooker in the morning and have a warm, homey aroma of a hearty, ready-to-eat stew in the evening.
For breakfast, try a sandwich of thinly spread peanut butter with banana on whole wheat bread, bagel, or pita.
Use your imagination—create super spuds. Top white or sweet potatoes with nonfat or lowfat yogurt or cheese, barbecue sauce, sautéed vegetables, or cream soups.
Prepare extra when cooking rice, baked potatoes, oven meals, muffins, or pasta dishes. These can be refrigerated or frozen and used later.
Spicing up convenience foods…these foods are the salvation of many. But they often lack nutritional quality, texture, and home-cooked food flavor. You can boost nutrition and enhance the flavor by adding spices, vegetables, or meat. Try the following ideas or use your imagination!
Add fresh onions and peppers to bottled or canned spaghetti sauce.
Add a single-serving can of tuna to the pasta salad from the deli counter.
Mix sliced vegetables with Rice-a-Roni. Or mix chili beans, tomato soup, chopped carrots, peppers, ¼ cup lowfat cheese, and onions with Spanish Rice-A-Roni for a hot, hearty goulash.
Add grated lowfat cheese to quick-cooking grits.
Add fresh fruit to plain lowfat yogurt.
Add garbanzos instead of tuna or hamburger to Tuna and Hamburger Helpers.
For more ideas, check out:
Healthy Eating: Cooking for One
Source: American Institute for Cancer Research
0