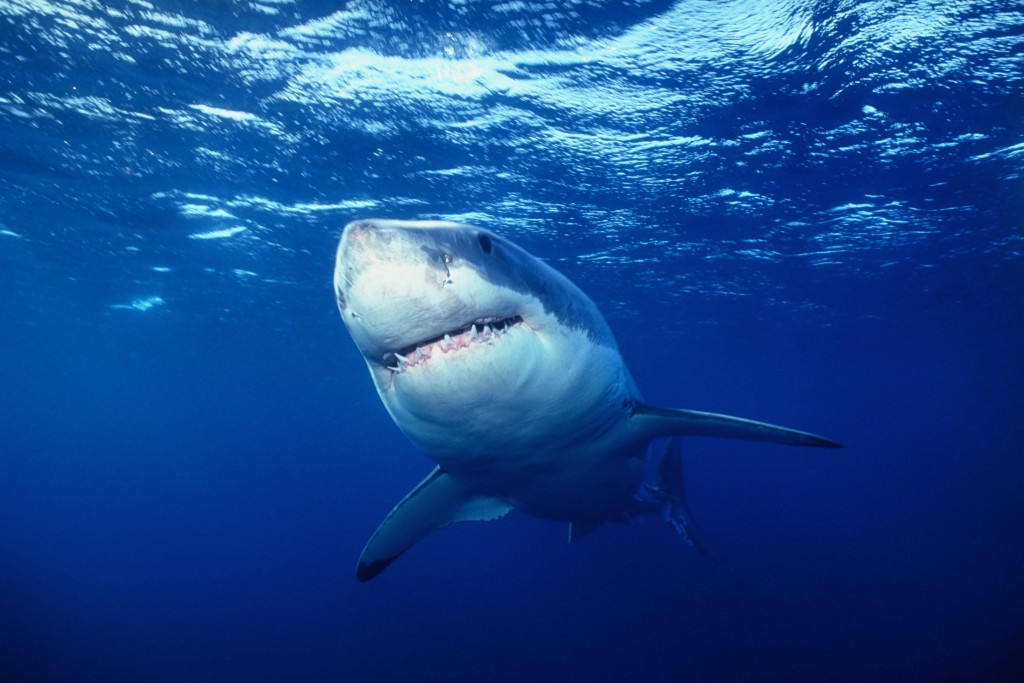 From Fear to Fascination: White Sharks in the Florida Panhandle
UF/IFAS Extension – Florida Sea Grant
By Rick O'Connor (Escambia County) and L. Scott Jackson (Bay County)
Recently, I was walking on our local Gulf fishing pier checking fishing line recycle bins. You can't walk on a Gulf pier without looking over to possibly catch a glimpse of a sea turtle or a shark, and I was not disappointed. It was hard to tell which species of shark but it was about 6 feet in length. It swam south along the edge of the pier and then east to make a large arching circle through the emerald water, past bathers at the surf break, and back to the pier only to swim the pattern again. Onlookers from out-of-town were giggling with delight to see the animal while a couple of local fishermen tried tossing bait at it, but most ignored it and went on with their fishing.
Bob Shipp's book, Fishes of the Gulf of Mexico, lists 29 species of shark found locally. Most are members of the requiem shark family, such as blacktips and bulls, and hammerheads. Though these sharks are certainly capable of attacking humans, their presence usually does not interrupt water activities. Divers who encounter sharks may be startled at first but rarely do they end their dive or have problems with them. Even in 2005, remembered as the "summer of the shark attack", few people stopped diving or surfing. Individuals have become educated regarding shark behavior and are not as startled when they see one. However, in 2015 there were several encounters with White Sharks.
Sightings in the Gulf of Mexico are rare but usually occur in the cooler months. Is the increased interaction with White Sharks unusual or something to worry about?
To answer this question I turned to George Burgess, a shark expert who manages the International Shark Attack File housed at the UF Florida Museum of Natural History.
Is this unusual?
Burgess assured me that White Sharks do occur in the Gulf of Mexico usually during cooler months and are transients, as opposed to residents. Their movement in and out of the Gulf is temperature driven. As late spring Gulf waters continue to warm into early summer, sighting a White Shark is less likely to occur. According to Burgess, White Sharks use deep water when traveling but prefer shallow water when hunting fish, turtles, and marine mammals. So, inshore encounters especially in cooler months would not be unusual.
Why is there a sudden increase in the numbers of encounters?
One part of the answer lies with the increased number of White Sharks. Conservation of sharks has been effective. Additionally, with the passing of the Marine Mammal Protection Act, there are more marine mammals, thus an increase in their predators, White Sharks. The other part is the number of humans visiting the northern Gulf has increased. There are more more visitors to marine waters, especially since the Deepwater Horizon oil spill. Everyone has a camera. Beachgoers, Swimmers, Divers, and Anglers all have improved technology to record their adventures.
Is Northwest Florida a "hot spot" for White Sharks? Burgess indicated that the northern Gulf of Mexico is more productive than the peninsular Florida due to the number of nutrient rich rivers in the region. Seeing more White Sharks here would not be any more unusual than finding more snapper, lionfish, or other species of shark. As far as worrying, there have been no records of White Shark attacks in the northern Gulf of Mexico since they began keeping records in 1872.
Finally, what does one do if they encounter a White Shark?
The quick answer is nothing different than with any other shark. It is true that most White Shark attacks occur at the surface but there are no records of any attacks in Florida. Burgess indicated that the Bull Shark is probably a bigger threat than the White Shark. For more information about Bull Sharks and general tips to avoid a negative shark encounter read this article http://nwdistrict.ifas.ufl.edu/nat/sharktips
In a recent video, recorded near Apalachicola, a diver was on an anchor line on a decompression stop when he saw a White Shark approaching from depth. What should a diver do in this situation? Should they swim for the surface and risk decompression sickness, remain still, or return to the bottom?
The answer has a lot to do with what the shark is actually doing. Is the shark interested in the diver or acting aggressively? Burgess suggests, you assess the situation and the shark's behavior. All options are on the table and have to be weighed against the consequences given in this scenario. As a last resort, a diver may need to make a quick but graceful exit out of the water, past the shark, and depend on their diving partners to render aid as needed. The lesson is for divers to be prepared for a variety of potential issues on every dive.
For more information on sharks and shark attacks in Florida visit the International Shark Attack File at http://www.flmnh.ufl.edu/fish/Sharks/ISAF/ISAF.htm
Note: White Sharks are a protected and prohibited species. It's illegal to beach or land them. See guidance on shark fishing regulations, gear requirements, Including catch and release methods from the Florida Fish and Wildlife Conservation Commission at http://myfwc.com/fishing/saltwater/recreational/sharks
0