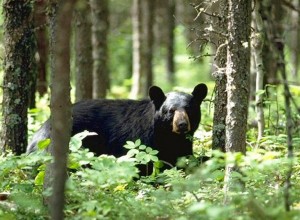 Florida's black bear population estimate was as low as 300 in the 1970s, today the population estimate is more than 3,000 bears distributed in seven geographically distinct areas of the state (Figure 1.) The Florida Fish and Wildlife Conservation Commission (FWC) has developed a long-term conservation plan for the black bear, part of which includes formation of seven bear management units (BMUs) and a local advisory group of stakeholders interested in issues such as creating "Bear Smart" communities. See FWC's website The Florida Black Bear for more information on the management plan.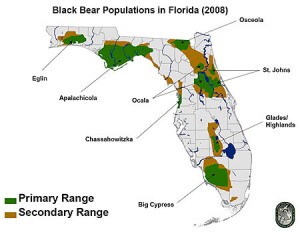 Two of the seven Bear Management Units are here in north Florida, and as many hunters and outdoor enthusiasts in our area know, black bears are attracted to food sources, including wildlife feeders. Bears have learned that feeders are an easy source of food and can destroy these feeders while trying to get inside. Once bears associate food with people, they start to lose their natural fear of humans. Such conditioned bears can become nuisance animals. The best method for preventing bears from invading human-use areas is to remove all food sources. In the case of wildlife feeders this is not practical, so the next best option is to make your feeder bear resistant. Below are some ways to discourage bears from raiding your wildlife feeders.
Where bears are common, feeders should be located away from swamps and creeks. These areas are preferred by bears, and feeders close to them invite visits from hungry bears.
Locate the feed site as far away from heavy cover as possible. Bears often follow heavy cover while traveling.
Bears are powerful and resourceful animals. Place feeders well out of their reach.
The bottom of hanging feeders should be a minimum of 8 feet above the ground.
Feeder tops should be sealed tightly to keep grain dry and un-fermented.
If possible, you may also consider planting food plots instead of using feeders, as bears are less attracted to and less likely to damage the plots.
The following publication has details on building a bear resistant wildlife feeder: Make Your Wildlife Feeder Bear Resistant. Some characteristics of this feeder are:
The feeder should be suspended from a 20 ft. piece of 3 inch schedule 40 steel post.
The metal post should be buried to a depth of 4 feet and anchored in concrete.
The anchor hole should be dug square to increase resistance and make it harder for a bear to push the post over.
If you encounter a bear in your area, are experiencing nuisance problems or property damage, or if a bear is threatening humans, pets, or livestock, please call the FWC regional office in Panama City, Florida at 850-265-3676, or 24-hour FWC Law Enforcement at 850-245-7710.
For more details on living with bears, please read the following UF/IFAS and FWC publications:
Make Your Wildlife Feeder Bear Resistant
Living With Florida Black Bears
Living with the Florida Black Bear: a Homeowner's Guide to Nuisance Bear Prevention
0