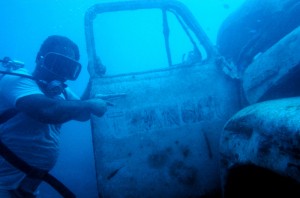 History of Artificial Reefs and Materials
Ancient mariners observed large numbers of fish inhabiting areas near sunken vessels. Our first sailors quickly realized objects placed in the sea are almost immediately colonized by marine life.
Based on these early observations, the first artificial reefs were constructed from materials purposefully put underwater to enrich marine life. New reefs were mainly constructed from deteriorating vessels or "materials of opportunity".
In the 1830s, artificial reef pioneers in South Carolina experimented using log huts, which they discovered deteriorated in a few short years. Locally, in the Florida Panhandle, as early as the 1950s and 60s, railroad cars, school buses, car bodies, white goods (stoves, refrigerator, washer, etc.), tires, and even porcelain fixtures were used to create artificial reefs.
Modern use of Artificial Reefs and Materials
Today's artificial reef materials are no longer the "underwater junk yards" of the past but marine resources that are carefully deployed and calculated to last at least 20 years without harm to wildlife or the environment. Decommissioned steel hulled ships, military surplus, nested concrete culvert, and durable "materials of opportunity" are still utilized today. Additionally, new engineered concrete artificial reef modules that support specific species and various life stages of fish have been developed. Current fisheries research seeks to refine materials, design, and placement of artificial reefs to maximize conservation through planned monitoring activities.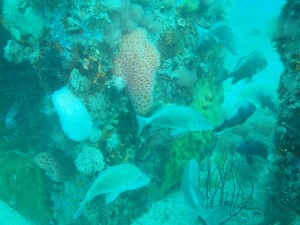 Within hours of sinking a vessel or concrete reef, baitfish move into their new home. This initiates a "parade" of marine life over several months. The hard structure of an artificial reef is slowly colonized by soft corals, sponges, plants, and barnacles. Baitfish will soon have new neighbors, as snapper and grouper take residence. Nearby sand sediments come to life with sea stars, sand dollars, and other invertebrate species.
Attraction vs. Production
Almost as old as the history of artificial reefs is the question of attraction vs. production. Do artificial reefs actually increase the fish population or merely increase the number of fish being caught? Researchers struggled with this question for decades producing seemingly conflicting results. Today's consensus is that the answer to the question is both yes and no – it depends.
When fishing pressure and mortality exceed the number of fish produced, artificial reefs can end up as expensive fishing equipment. It's in everyone's interest to avoid this situation and create productive resources.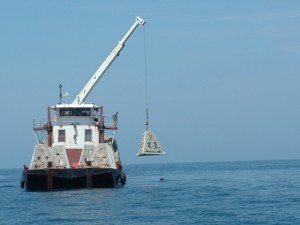 Fisheries Management Tools
Artificial reefs are best used as a fisheries conservation tool that disperses fishing pressure and promotes healthy fish stocks. Reefs are strategically deployed so that the exposure to fishing pressure is limited by either time or by geographic location. The ultimate goal when using artificial reefs is for fish production to exceed any fishing or natural mortality.
Economic Benefits of Artificial Reefs
Our artificial reefs support more than just fish. They support jobs and people that earn a living from tourism associated with diving and fishing. In 1998, Florida State University researchers, estimated fishing and diving activities supported nearly 8,136 jobs and 84 million dollars in salary each year in Escambia, Santa Rosa, Okaloosa, Walton, and Bay counties. Despite the age of the study, it provides an idea of how vital artificial reefs and marine recreation are to Northwest Florida.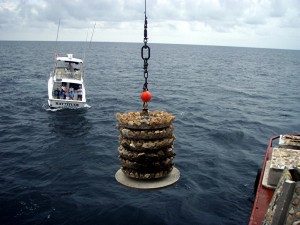 How to Access Northwest Florida's Artificial Reefs
Local Artificial Reef Associations
Emerald Coast Reef Association
Mexico Beach Artificial Reef Association

Creating Marine Habitat Videos produced by Florida Fish and Wildlife with narration from Mark Sosin
0