As Floridians we often struggle to find any upside to these cold, gray days we've been experiencing past few months. As "unfloridian" as our winters can be they pale in comparison to those endured by the more northern states. In fact, the last days of winter can be the ideal time of year in the Panhandle to tackle some outdoor chores like controlling unwanted trees and other woody plants.
Controlling trees can be hard work, the cooler temperatures can make the task a little less taxing. The relative inactivity of the "creepy crawlies" and pests often found in wooded areas is another reason to consider completing tree and woody plant removal projects during the winter.
Tree control generally involves mechanical removal. In some cases mechanical removal provides only short term control; in other cases it can actually increase the number of unwanted plants over time. This is the problem with both Chinese tallow (popcorn tree) and privet. Herbicide treatments can eliminate the possibility of regrowth and provide permanent control. The herbicide application techniques used to control trees and other woody plants are very selective and they are effective during the winter. These techniques provide opportunities to use herbicides in a controlled and very targeted manner with very little risk to surrounding plants. Additionally, the techniques below are most effective through the fall and winter when sap flow in trees is lessened.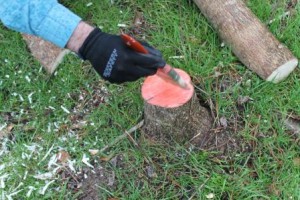 The cut stump technique is a fairly common and very effective method of achieving permanent control of woody plants. As the name implies, the first step in the cut stump technique is to cut down the tree. Immediately after cutting down the tree spray or paint the stump with herbicide. On smaller stumps the entire surface should be covered with herbicide; on larger stumps effective control can be achieved by only covering the outside three inches of the stump.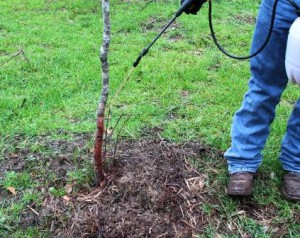 Two additional herbicide application techniques that work well on woody plants do not require the plants to be cut down first. The basal application technique works best on smooth barked woody plants with a diameter of less than six inches. This technique involves spraying the bottom 12 to 18 inches of the tree with an herbicide oil mixture.
The hack and squirt method works well on large and/or thick barked trees. This technique involves using hatchet or other tool to cut through the bark around the circumference of the tree, then applying herbicide directly to the cut. Several months should pass between herbicide application using either of these techniques and mechanical removal.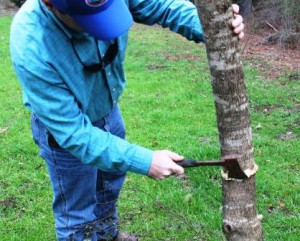 Be sure to read and follow the label of any herbicide you use. Always wear the proper personal protective equipment. For more information on the techniques described, including recommended herbicides and rates, read Herbicide Application Techniques for Woody Plant Control or contact your county's UF/IFAS Extension Office.
0