Each summer Florida 4-H camps are bustling with 4-H volunteers, staff, and youth enjoying their week long residential camping experience. As a significant delivery mode in experiential learning, residential camping annually is home to nearly 4000 youth participants and 250 volunteers and agents. Within this mixture are some very important teens that give up their week as a "camper" and graduate to the role of "Counselors." These teens, ages 13-18 sacrifice alone time, electronics, and sometimes their sanity in order to fulfill their leadership role at camp and place their campers' needs ahead of their own. We've seen them overcome struggles, we've seen their growth, and we want to pay them back for all the countless hours they have dedicated to the program!
Therefore, the 4-H Teen Retreat is scheduled annually in February at Camp Cherry Lake for ages 13 to 18! Each year teens and 4-H Agents across the panhandle come together to plan this event and each year focuses on a different theme and community service program. This is no ordinary camping experience for Counselor age teens. There will be no responsibility of campers but definitely the responsibility of having fun while team-building with other teens across the Northwest District. Teens will participate in workshops and fun-shops planned and led by teens (with the assistance of 4-H Agents and volunteers), and then finish up the weekend with dancing, and a community service project. All camp rules and dress codes apply for the weekend. This fun-packed weekend costs $75 (scholarships may be available) and you can send payment to your local 4-H Agent after you have registered in your 4honline profile.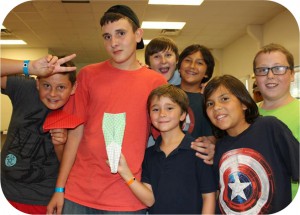 By participating in 4-H, youth are reported over twice as likely not to participate in risky behavior and are over 3 times more likely to contribute to their communities as compared to non-4Her's (Florida 4-H: Facts & Impacts.) In the 2014 4-H Common Measures Statewide Survey of 4-H Seniors, 92% reported they know how to deal with stress in positive ways, 84% agree they learned things that helped them make a difference in their communities, 98% agreed they respect people from other cultures, and 95% agreed they can apply knowledge in ways that solve real-life problems through community service. These statistics show that through participating in 4-H activities and events, youth are becoming more competent, productive citizens in their communities. This in turn leads 4-H youth to be better prepared for leadership roles within the workplace.
Take advantage of everything 4-H has to offer by kick-starting 2018 with the 4-H Teen Retreat!
0