Northwest Floridians are lucky. We get to bask in the warm sunshine at least eight months of the year, consider it cold weather when we have to break out the fleece pullover and none of us live more than a few hours' drive to the whitest sand you ever saw. However, those conditions have consequences. That warm sun and plentiful rain yields heat and humidity, a perfect breeding ground for all manner of pests and diseases, not to mention seriously cutting down on necessary chill hours required by many species. We'll never be able to grow peaches like they do in Georgia. No one is in any danger of mistaking a Florida apple for one from Michigan. Pomegranates, olives, and nectarines like California? Forget about it. All of those species will mostly survive and grow but in most cases, the inputs of labor and protective chemicals greatly outweigh the output of fruit. For most of us it is just not worth the time and effort to turn a crop!
We have a couple of adapted, well-known stalwarts to turn to though. Any gardener worth his salt has a few productive rabbiteye blueberries (Vaccinium ashei), a pear (Pyrus communis), an old reliable fig tree (Ficus carica), and a citrus or two of some kind (though with the devastating disease known as Citrus Greening looming on the horizon, backyard citrus may decline in popularity in the near future). However, hobby fruit growers aren't often content to stick to those standards though. We tend to be an adventurous, progressive lot, always looking for new species to grow and constantly pushing climatic and adaptation limits of species, with varying success. For the Panhandle backyard fruit orchardist looking for a little variety but demanding a high probability of success, there are three unusual Florida Friendly trees requiring little winter chill that fit the bill perfectly: Pawpaw (Asimina triloba), Japanese Persimmon (Diospyros kaki), and Loquat (Eriobtrya japonica).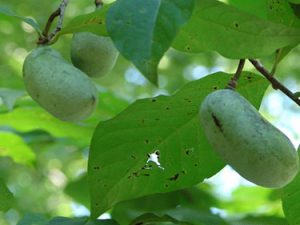 The pawpaw (yes it's pronounced exactly like you think it is) is an altogether unusual tree. For starters, it is one of the most adaptable plants in cultivation, growing native from New York all the way down to the Sunshine State. It would be a beautiful tree if it never produced a single fruit; the large leaves droop naturally, lending a decidedly tropical feel to the garden and the understated purple-brown flowers are some of the more attractive of our native spring blooming trees. But, to be sure, the fruit are the real attraction here. Technically berries, the bluish-green, three to five inch long, oval-shaped fruit ripen in the late summer (August-October) and have an extremely unique taste often likened to banana or custard. Pawpaws occur naturally in moist, well-drained soils and thrive in both shade and sun; site accordingly and this unusual little native fruit tree should perform admirably for you!
While more common than Pawpaw, Japanese Persimmon still has not reached the cosmopolitan status of pear or fig or the like for reasons unclear to me! Native to eastern Asia, Japanese Persimmon is right at home in the Panhandle where it rewards gardeners each fall with outstanding reddish/orange foliage and a reliable crop of beautiful, baseball-sized, orange fruit possessing a crisp, sweet taste that can be eaten fresh or used in cooking. I especially like the fruit when it is made into a cakey "bread" similar to banana bread. It is a remarkably forgiving tree, growing and fruiting reliably with little help from the orchardist. Japanese Persimmon is generally sold as one of the selected cultivars, 'Fuyu' being the most common and probably the best. The species prefers full sun and moist, well-drained soil but does just fine without irrigation once it reaches establishment. A bonus, you only need to plant one as Japanese Persimmon does not require a pollinator! (Note: Persimmons can be astringent or non-astringent. If you plant an astringent cultivar, be sure to let the fruit ripen completely before eating as they are unpalatable until that point. Most are probably better off going with a non-astringent cultivar such as 'Fuyu'.)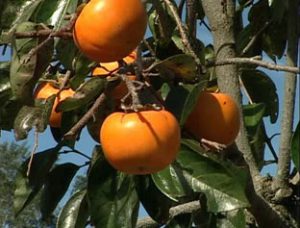 A lesser-known gem of the coastal south, Loquat is hard to beat. It's a great addition to the landscape, the cinnamon colored bark, foot-long "cabbagey" textured leaves and early spring flowers outdo many purely ornamental species. The yellowish-orange fruit that follow are outstanding picked and eaten fresh off the tree. Flavor is reminiscent of citrus with a sweet taste and a soft texture. Loquat flourishes in full sun and once established needs little to no supplemental fertilization or irrigation. As with Japanese Persimmon, Loquat is self-fertile and does not need a pollinator so just one tree will do (trust me, one healthy loquat will make enough fruit to feed a small army)!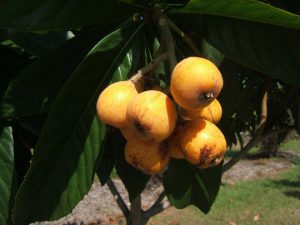 If you are indeed a backyard orcharding enthusiast and want to expand your horizons to include more than the same old standard species that everyone else grows or maybe you're just frustrated with trying to grow popular but ill-adapted species like peach and apple, you could do a lot worse than including one or all of Pawpaw, Japanese Persimmon, and Loquat into your garden! For more information on fruit trees and any other horticultural questions you may have, contact your local UF/IFAS Extension office. Happy gardening!
0