Growing in containers can be one of the most versatile ways to add color, texture and mobility to the landscape. However, gardeners generally reach for finicky annuals to fill their pots with pizzazz. The problem with this strategy is that most annuals and perennials need to be watered constantly, fertilized regularly, and changed out with the seasons. That sounds like a little bang for a whole lot of buck! I and most of the real plant people I know fall squarely in the school of lazy gardening and believe there is an easier, less intensive, and ultimately less expensive way to get the same result. This can be accomplished by thinking outside the box and using an alternative class of plants that can fit the same bill of providing color and texture in pots without the headaches and have been sitting on the shelves right in front of us the whole time, the shrubs.
It is beyond me why shrubs aren't used as container plants more often. Maybe the reason for the lack of use is pure perception; after all, no one with any sense would plant a giant, coarse green meatball or an enormous antebellum azalea in a decorative pot on their front walk. Recent innovations by plant breeders have left this argument moot though as new introductions of old species have revived interest in the entire group. Many of the best of these new cultivars sport traits perfect for container culture (dwarf growth habit, increased flowering, and interesting texture and form) while preserving the ironclad, undemanding nature of their parent plants. The following are a few of my favorite new shrub introductions for container growing!
If interesting architecture is what you require in a plant, 'Purple Pixie' must be on display in your yard. This dwarf cultivar of the wildly overused purple shrub Loropetalum chinense has taken the horticultural world by storm. The unique combination of true purplish foliage that only greens slightly in the hottest summer sun, ribbon-like pink spring flowers, and a graceful weeping habit make 'Purple Pixie' a winner. Give this plant a medium sized container (at least 12" in diameter), water when the soil begins to dry, fertilize infrequently with a slow-release formulation, site in full sun to partial shade, and enjoy for many seasons to come.
This is definitely not your granddaddy's Ligustrum. Gone are the rampant growth, sickly sweet smelling flowers, and the aggressive nature of 'Sunshine's' parent Chinese Privet (Ligustrum sinense). 'Sunshine' is a sterile cultivar with dwarf characteristics (growing 4-5' with infrequent light pruning), vivid yellow-chartreuse foliage, and most importantly, no flowers. All 'Sunshine' asks of us is plenty of sun, occasional fertilizer and a light haircut once or twice a season! Use this plant to frame a dark flowerbed or in a container as a companion to the previous plant, 'Purple Pixie' Loropetalum for an extremely striking combination!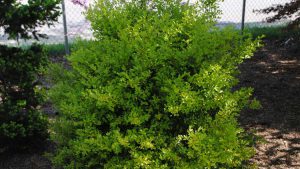 A new take on a landscape standard, 'Baby Gem' is an exceptionally compact and slow growing cultivar of Buxus microphylla var japonica. All the same features gardeners love about traditional "full-size" boxwoods remains (tight, formal growth habit, ability to prune into many different shapes and ironclad constitution) but with 'Baby Gem' are delivered in a perfect package for a pot. This little "gem" of a plant is perfect for use in a smallish container to frame a formal landscape or to give a sense of order to an informal container garden or border!
So if you're ready to stop replacing all of your potted plants each and every season, reach for one of these shrubs the next time you are at a garden center. You'll likely be rewarded with compliments on your creativity, four season interest from the plants themselves, and more time to enjoy being in your garden instead of laboring in it! As always, if you have any questions about this or any other horticultural topics please contact your local UF/IFAS Extension office! Happy Gardening!
0