Almost every landscape has a problem area where the sun just doesn't shine and many plants won't make it, maybe it's the north side of your house, under a small tree, or tucked away in an oddly-shaped alcove. We all know the same old boring green choices that work well here (Holly Fern, Cast Iron Plant, etc.) but maybe you want something a little bit different, something that will provide a pop of color and interesting texture! Look no further than a recent introduction, a whole-plant mutation discovered from the little-used Grape Holly (Mahonia spp.), aptly named 'Soft Caress'.
'Soft Caress' Mahonia is a beautiful little evergreen shrub from the Southern Living Plant Collection (one of the best of the collection in my opinion) and really is a game changer for full-shade areas. Some of you may remember the traditional Mahonia, also known as Grape Holly, from your grandmother's lawn. Those plants were coarse, spiny, produced messy purplish berries and often appeared generally unkempt. 'Soft Caress' is a major departure from its parent. Possessing finely-cut, deep green, bamboo-like foliage, this plant's texture really contrasts well with many traditional shady species. As a bonus, 'Soft Caress' sends up brilliant yellow-gold flower spikes in the dead of winter, certainly a welcome respite from the other barren plants in the landscape; although in this unusually warm year, the plants are just now blooming in the Panhandle.
'Soft Caress' is advertised to grow three feet in height and width, a more manageable size than the larger traditional Mahonia species, but I'm not sure I'd take that as gospel, the three-year old plants (hardly mature specimens) in my parent's landscape are already that size and show no signs of slowing down. However, I've found you can easily manage their size with a once a year prune to slow down some of the more rapidly-growing canes. Be sure to time the prune as soon as possible after flowering is finished as 'Soft Caress' blooms only once a year and produces its flowers on the previous season's wood, just like Indica Azaleas and old-fashioned Hydrangeas.
The uses in the landscape for 'Soft Caress' Mahonia are nearly endless. It pairs well with almost anything in a shady mixed shrub border. It works nicely as a foundation plant against a porch or under windows on the north or east side of a house where it will be protected from hot afternoon sun; I have employed a grouping of the plants in this way in my own lawn with success. It even thrives in containers! If you want to show off some serious horticultural design skills, mix 'Soft Caress' in a large container on the porch with some like-minded perennials for a low-maintenance, high-impact display that you don't have to replant each season. All this shrub requires is partial to full shade, moist well-drained soil, and an occasional haircut to keep it looking tidy! If you've been struggling to find a plant that's a little more unusual than the standard garden center fare and actually looks good in shady spots, you could do a lot worse than 'Soft Caress' Mahonia.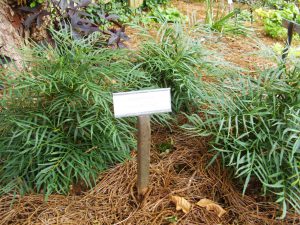 As always, happy gardening and contact your local UF/IFAS County Extension office for more information about this plant and other gardening questions!
0