One of the most overlooked aspects of landscape design, particularly on DIY projects, is the idea of enhancing the architecture of your home by using plants that echo the shapes and features of the structure. The use of proper plant material not only shows off a home's exterior beauty and increases curb appeal but often will translate into a significant boost in resale value! On site visits, I all too often encounter beautiful homes whose curb appeal potential is squashed due to poor plant selection. For example, how many times have you seen the ranch-style home with too-large Indica Azaleas across the foundation that are reaching for the eaves?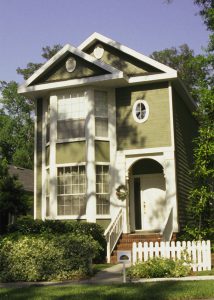 Using plants to echo architecture is a pertinent topic for me as I just purchased a beautiful historic home in Walton County. This is a situation that could easily be ruined through improper plant selection. However, I'm going to try my best to use plants that enhance, not detract from, the architecture of the home. Here are a few very common architectural elements that happen to be present in my house and some easy planting tips to bring out the best in them:
A steeply pitched roof and tall, narrow profile. A situation like this calls for the installation of a tight, upright shrub or tree to frame and echo the corner of the home. I am obeying this rule by planting a 'Sioux' crapemyrtle, a narrow, upright cultivar growing to 20' and sporting flaming pink flowers. Some other plant options to consider installing: Ilex x attenuata 'Savannah' and other cultivars, 'Apalachee' crapemyrtle (lavender Flowers with cinnamon bark), 'Brodie' or 'Spartan' juniper (upright cultivars), 'Little Gem' magnolia. There are even a few selections of live oak such as 'Highrise', 'Skyclimber', etc. that fit the bill!
Large, open front porch. We southerners love our front porch sitting, so don't cover it up by planting large growing shrubs in front of it! Instead, plant a low growing, maintenance free ornamental grass or shrub! I decided to go with an airy, native look and fill the bed under my porch with pink muhly grass (Muhlenbergia capillaris). Here are a few other great options for a low growing plant to show off your porch: 'Purple Pixie' loropetalum (a new introduction from the Southern Living Plant Collection), dwarf Fakahatchee grass (an underused native), Indian hawthorne (overplanted but still effective), 'Firepower' nandina or one of its newer cousins (bulletproof with good fall color), 'Soft Caress' mahonia (elegant selection for a shady bed), holly fern (low growing evergreen fern for a shady area).
Long, bare walls. Let's face it, a blank wall is not visually pleasing and bare walls can actually act as a heat sink during our long summer afternoons! To break up the monotony of a bare wall and provide some shading for cooling purposes, mix plants of different heights and textures, even add a small tree or two! Here are a few reminders when landscaping to bring interest to a bare wall: Plant the taller plants (larger shrubs and small trees) in between windows to get height interest but not block views; use plants with flexible limbs and soft foliage for easy pruning and to make maintenance easier; choose plants with colors that will be compatible with the wall; finally, allow at least a foot or two between the wall and the mature size of your plants for ease of access! The plant choices for this application are endless. Get creative!
Whatever your house's style may be, remember the above suggestions when planting and watch as your landscape grows to enhance the look and value of your home rather than detract from it! Happy planting!
0