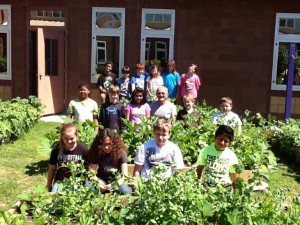 Mary, Mary quite contrary, how does your garden grow?
With 4-H volunteers, Essential Elements of Positive Youth Development, and UF IFAS Extension all in a row!
School gardens have become the perfect avenue to implement experiential learning. They provide the students with a safe environment which fosters cooperative learning, and focuses on nurturing the essential elements youth require in order to become competent caring citizens. Joe Crozier is a Master Gardener and 4-H volunteer in Walton County. Joe has extensive knowledge in gardening including container gardening and hydroponics. Joe has shared his success and expertise in hydroponics through Master Gardener workshops in the Florida panhandle. However, Joe has a passion for sharing his knowledge with children through the 4-H gardening project and was recruited by the Assistant Principal at Freeport Elementary to begin gardening with the 4th Grade classes.
When asked what inspires Joe to continue to be a 4-H Volunteer, he says "The questions the students ask, and most of all, the smiles on their faces as they plant seeds and become part of the 4-H School Garden Program."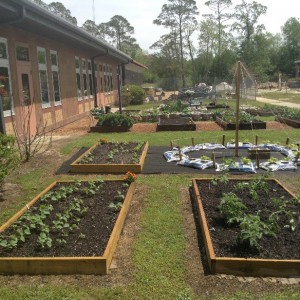 Last year, Joe developed a raised bed garden at Freeport Elementary, which has now expanded to include a bean tee-pee and additional beds. Each student had their own section, per their request, in order to master their green thumb. Prior to this, and the ignition to their new found passion for gardening, the students participated in the "Potato Project," and grew potatoes in laundry baskets. The students were amazed that this was possible, not to mention the quantity and quality of potatoes that emerged! Once the potatoes were harvested, the children prepared them for cooking and the lunchroom returned the favor by providing each classroom with their own piping hot buttery new potatoes. Children who wouldn't normally touch vegetables eagerly awaited the moment they could taste the fruit of their labor.
Joe has devoted countless hours to the 4-H School Gardens Program. When asked how 4-H has made a difference in the lives of the students at the school, Joe stated "They involve their parents when they take what they've learned in the garden home! Some children have never been taught how to garden or how to grow their own food. Spending time teaching these children makes me so happy and is so contagious that my family notices how proud I am of them." Thanks to his diligence and dedication, more schools are eager to join the Potato Project and develop their own 4-H School Gardens in Walton County.
If you have a green thumb, consider going "totally green" as a 4-H gardening volunteer! 4-H needs caring adults like you to share their knowledge and passion for gardening with the next generation. Through the 4-H gardening project, youth not only learn gardening knowledge and skills, they also learn responsibility, teamwork, and other life skills that will help them grow up to be compassionate and competent citizens. To get involved, contact your local UF IFAS Extension Office, or visit http://florida4h.org./volunteers.
Your opinion matters! Please provide feedback on this short survey to help us improve our blog: https://ufl.qualtrics.com/SE/?SID=SV_3gtLKjqia3F75QN.
0