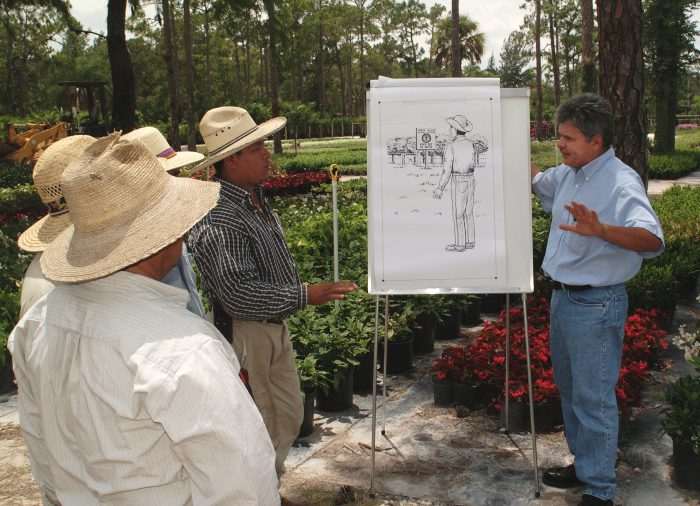 The U.S. Environmental Protection Agency has announced revisions to the 1992 Agricultural Worker Protection Standard (WPS). This change is intended to improve workers health protections and make them comparable to the standards in other industries.
These modifications affect many different regulatory areas and are designed to improve protections for the nation's approximately two million agricultural workers and their families working on farms, forests, nurseries, and greenhouses.
Under these new protocols there will be mandatory annual training to inform farmworkers of the required protections afforded to them. Training had only been required once every five years for farmworkers.
Regulatory changes include:
Expanded training includes instructions to reduce take-home exposure from pesticides on work clothing and other safety topics.
First-time ever minimum age requirement: Children under 18 are prohibited from handling pesticides.
Requirement to provide more than one way for farmworkers and their representatives to gain access to pesticide application information and safety data sheets – centrally-posted, or by requesting records.
Changes in personal protective equipment will be consistent with Department of Labor's standards for ensuring respirators are effective, including fit test, medical evaluation and training.
Specific amounts of water to be used for routine washing, emergency eye flushing and other decontamination, including eye wash systems for handlers at pesticide mixing/loading sites.
By better protecting agricultural workers, the agency anticipates fewer pesticide exposure incidents among farmworkers and their family members. Benefits include a healthier workforce which avoids lost wages, medical bills, and absences from work and school.
[notice]The majority of the WPS rule revisions will take effect on

January 2, 2017

. [/notice]
0