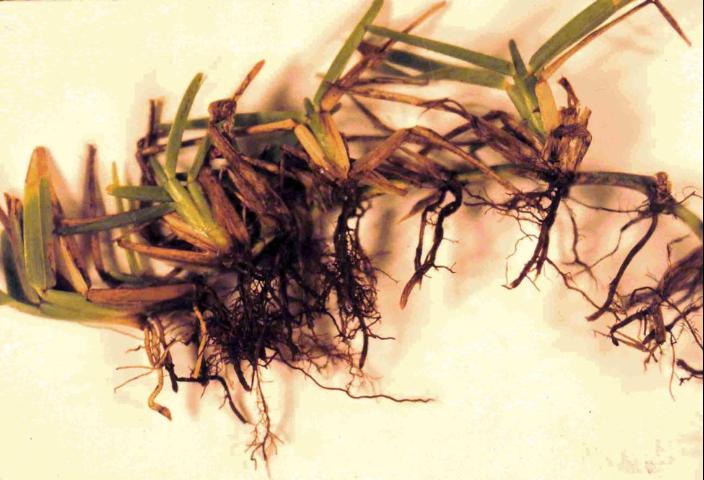 The crisp air of fall is upon us. Maybe. We live in northwest Florida and we are not experiencing the change in weather just yet. With the change in weather coming, we are having specific issues in turfgrass lawns and are sure to have others in the near future. Extension agents in the western panhandle have come into contact with several St. Augustine lawns with symptoms and signs of take-all root rot (Gaeumannomyces graminis var. graminis) and we can soon expect with cooler temperatures for Large Patch to be rearing its ugly head.
Take-all root rot is sometimes referred to as a "stress disease", as it is brought on by stressful weather conditions and improper management. Periods of rainfall can provide conditions for the disease to affect all warm season grasses. Other stresses such as improper mowing height, improper irrigation, and improper fertilization can worsen the situation. For example, St. Augustinegrass, except dwarf cultivars, should be mowed at 3.5 to 4 inches and the mower should never remove more than 1/3 of the leaf blade at any cutting. With the current high temperatures and prolonged periods of rainfall it can be difficult to follow this practice. When a homeowner does not mow the lawn in a timely manner and lets the lawn grass get much too high and cuts more than 1/3 of the grass blade, this can become a stress to the lawn. Fungicide sprays can be made during favorable environmental conditions, before symptoms are seen to protect from infection with take-all root rot for high valued properties. To learn more about take-all root rot refer to this University of Florida/IFAS Extension publication: Take-all Root Rot
With the fall weather coming, please be sure to read and learn about large patch disease as well. This can brought on by temperatures of less than 80 degrees and high humidity or extended periods of rainfall. Read the University of Florida/IFAS Extension publication for more information: Large Patch
For any other information needed regarding proper lawn management, please visit Your Florida Lawn or contact your local UF/IFAS Extension office.
0