Encore® Azaleas – Add One More This Spring
Nothing signals spring in the south like the reds, pinks and whites of azaleas in full bloom. Nearly every yard has one. For two weeks out of the year there are flowers everywhere. But the glory fades fast. That was, until the late 90's.
Twenty-eight Encore® azaleas have been released since 1998. Robert E "Buddy" Lee, an avid collector and azalea breeder from Independence, Louisiana initiated an azalea breeding program to incorporate fall blooming characteristics into a winter hardy, evergreen azalea. He started his work in the 1980s, working out of his home with the goal of bringing the beauty of spring azaleas to other seasons. As the project grew, he eventually teamed up with Flowerwood Nursery to continue the process that would bring Encore® azaleas to the public. And, this spring number 29, Autumn Fire™ , a true red dwarf will be released, nearly a year ahead of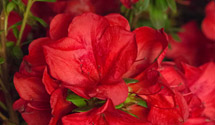 its original predicted introduction date.
Lee selected the seedling that was to be named Autumn Amethyst™  in 1986, but did not receive the plant patent until 1998. So far, there are two series of Encore® azaleas: the Autumn series and the Southern series. The Autumn series can be grown in Zone 7 or warmer. The Southern series was designed for even warmer climates; they can be grown in Zone 8 or warmer. The Southern varieties are especially good for the Florida panhandle and the Mississippi and Alabama gulf coasts.
Different parents were used for the various cultivars now available. The fall flowering trait primarily comes from Rhododendron oldhamii Fourth of July – a cultivar selected from seed collected in 1968 at 2,500 feet up Taiwan's Mount Tai Tun. The female parent used to create Autumn Amethyst™  was a winter hardy hybrid named 'Karens' a cross between 'Hinodegini', the old Kurume variety, and R. yedoensis var. poukhanense, the Korean azalea.
At the 2015 Gulf States Horticultural Expo last week, I got to see Autumn Fire™ in full bloom. It is a bright cherry red with 2.5" blooms, on a nice compact 2.5' X 3' dwarf plant.   I think it's a keeper. Encore® azaleas are available in an array of colors, growth forms and bloom characteristics. New hybrids provide the traditional spring display during March and April, but they also bloom again in the fall, usually during September or early October. They reliably bloom in the spring and fall, but are never quite as covered with a complete carpet of flowers as you might see on a traditional azalea.
Encore® azaleas have the same cultural requirements as traditional azaleas. They should have a pH between 5.0 and 5.5, a well drained organic soil and water during the summer months. Bloom is heavier in brighter locations, with areas having morning sun and afternoon shade probably the best. If pruning is required to control size, thin and shear them in the spring just after bloom.