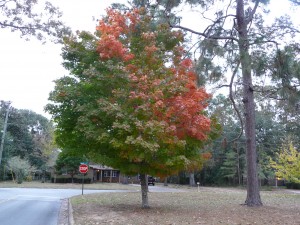 Although Florida is not known for the brilliant fall color enjoyed by some of our northern neighbors, we do have a number of trees that provide some fall color for our North Florida landscapes.
Our native flowering dogwood consistently provides some change in color before dropping its leaves. You can expect a red to maroon color in many of the dogwood leaves during fall.
Some of North Florida's native maples produce good color each fall. Red maple provides brilliant red, orange and sometimes yellow leaves. The native Florida Maple, Acer saccharum var. floridum, displays a combination of bright yellow and orange color during fall. And there are many Japanese maples that provide striking fall color.
Another excellent native tree is Blackgum, Nyssa sylvatica. This tree is a little slow in its growth rate but can eventually grow to seventy-five feet in height. It deserves more use in our landscapes. It always provides a bright show of red to deep purple fall foliage.
Crape myrtle gives varying degrees of orange, red and yellow in its leaves before they fall. There are many cultivars – some that grow several feet to nearly thirty feet in height.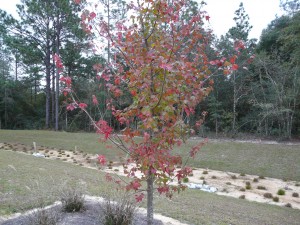 There are a number of dependable oaks for fall color, too. Shumard, Nuttall and Turkey are a few to consider. These oaks have dark green deeply lobed leaves during summer turning vivid red to orange in fall. Turkey oak is sometimes referred to as "scrub" oak and is common on our deep sandy soils. It is short-lived as compared to most oak species, living for fifteen to thirty years before it starts to decline and die. It does not grow very large in height or trunk diameter and is not grown or sold much because it is so common in the wild. Nuttall and Shumard are becoming better available.
Sweetgum is another common native tree to considering for fall color. But some people dislike this tree because of the one to three-inch round fruit (called sweetgum balls) that it produces, which can be a nuisance as they fall on the ground around the tree. And this tree produces large surface roots that can be a problem for mowers, nearby curbs and sidewalks. But its star-shaped leaves turn bright red, purple, yellow or orange in fall.
Our native yellow poplar and hickories provide bright yellow fall foliage. And it's difficult to find a more crisp yellow than fall ginkgo leaves.
These trees represent just a few choices for fall color. Including one or several of these trees in your landscape will allow you to enjoy the color of fall for many years right in your own backyard.
0