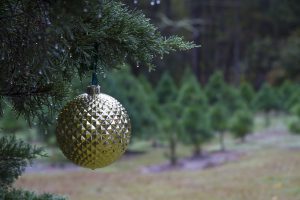 Americans purchased approximately 30 million live Christmas trees last year. If you plan to have a live tree this winter, and you're wondering what you could do with your tree once it has finished its role as holiday decoration in your home, read below. Rather than simply dragging your tree to the curb for the waste disposal truck to pick up, you could prolong the life of your holiday tree by repurposing it to benefit wildlife.
YOUR TREE COULD PROVIDE FOOD FOR WILDLIFE
Many of the needles may have dropped from your Christmas tree as it dried out while indoors, but the branches should still be intact. This means your tree could be used as a frame to present food for wildlife. After removing your indoor decorations, consider propping the tree up in your yard (perhaps using the same stand you used indoors), and adorning the branches with food enjoyed by wildlife visitors. Some low-budget options include mesh bags filled with bird seed (black oil sunflower seed, safflower seed, and thistle (nyjer) are favorites of many common backyard birds), pine cones smeared with peanut butter, home-made suet cakes, and strings of fruit such as apple slices, orange slices, or grapes. If you choose this option, beware that you may attract not only birds, but mammals such as squirrels, raccoons, opossums, and others.
If you'd like to watch your wildlife visitors, be sure to attach the food items with string so that the animals must eat the food at the site of the tree rather than carrying it away to eat or store elsewhere out of view. Consider using a biodegradable string (i.e., cotton) to secure the food items to your tree so you can eventually compost the tree without worrying about needing to remove the string.
YOUR TREE COULD PROVIDE SHELTER FOR WILDLIFE
If you're tired of seeing your holiday tree in its upright position, consider taking it outdoors, laying it down, and heaping other vegetative debris loosely on top to form a 'brush pile'. Brush piles are mounds of woody vegetation created specifically to provide shelter for wildlife.
The lower portions of a brush pile can offer cool, shaded conditions that allow small mammals such as rabbits to hide from the weather and from predators. Meanwhile, the upper portions can serve as perch sites for songbirds. The entire pile may be used as resting sites for amphibians and reptiles. In yards with few understory trees or shrubs, and at times of year when many trees and shrubs have limited foliage, these brush piles can provide much-appreciated cover for many kinds of wildlife.
YOUR TREE COULD PROVIDE SHELTER FOR FISH
Your retired Christmas tree could be used to make long-lasting habitat improvements for fish. In artificial ponds with little submerged vegetation, the addition of one or more Christmas trees could upgrade the quality of refuge and feeding areas for fish. Small fishes may hide among purposely submerged Christmas trees for protection, and larger fishes may follow them. If you've got an artificial pond on your property, consider adding discarded trees to create a place where fish can hide and find food, and also to concentrate fish for angling. Simply secure a cinder block to your holiday tree using heavy wire or thin cable and place it far enough from shore that water covers the top of the tree by a couple of feet. When constantly submerged, Christmas trees can persist for many years underwater.
Not only can your tree offer enjoyment to you when decorated with lights and ornaments indoors, but it can also allow you to provide post-holiday gifts to the wildlife and fish on your property.
0