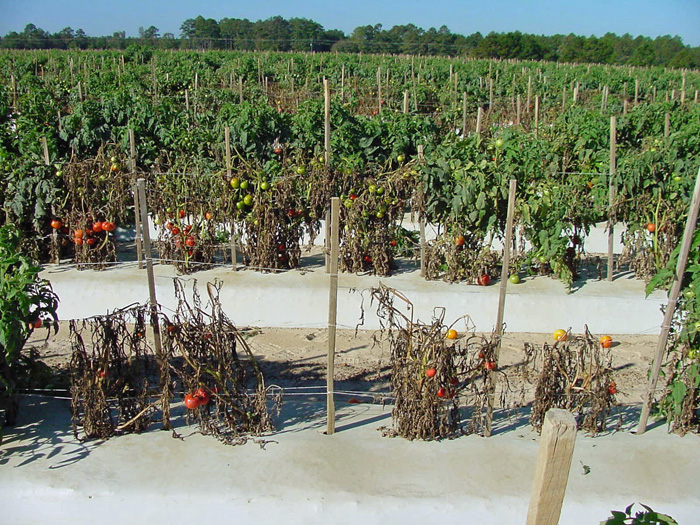 Sanju Kunwar, Mathews Paret, Jeff Jones, Laura Ritchie, Steve Olson, and Josh Freeman, UF/IFAS NFREC

Field tomato production in the southeastern United States is highly affected by bacterial wilt disease caused by Ralstonia solanacearum. In Florida, race 1 (biovar I, phylotype II) strains of Ralstonia solanacearum has been reported to cause more than 80% yield loss in field tomato production under disease favorable conditions (Fig. 1).
Although, use of resistant cultivars has been universally identified as the most effective method for managing the disease, the currently available commercial varieties in Florida do not have resistance to bacterial wilt. Recent studies by our group have demonstrated the effectiveness of grafting a bacterial wilt susceptible variety (BHN 602) to resistant hybrid rootstocks (BHN 998) to manage bacterial wilt disease in field tomato production with significant improvement in marketable yield (Fig. 2)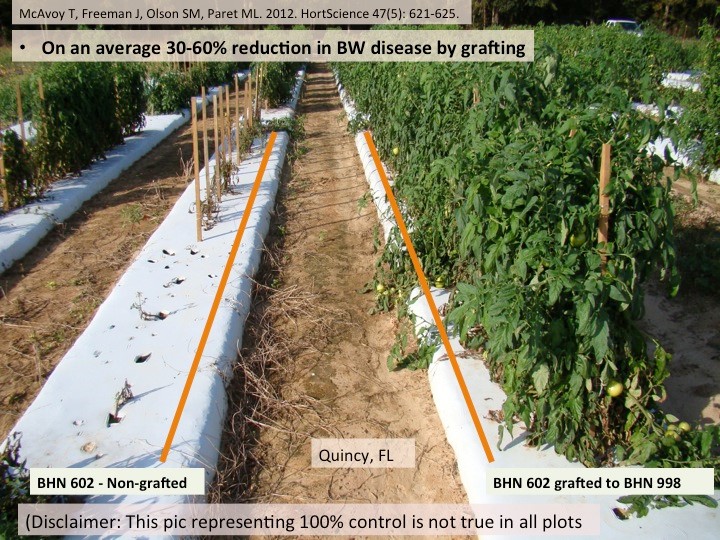 Also, in previous studies conducted at NFREC, Quincy in 2005, foliar applications of the plant defense inducer, Acibenzolar-S-Methyl (ASM; Syngenta Crop Protection), has been shown to provide effective bacterial wilt disease control in moderately resistant tomato genotypes with significant improvement in marketable yield compared to the susceptible control. Thus studies were conducted from 2013-2014 to evaluate the effect of ASM, applied as foliar or drip on grafted plants and impact on bacterial wilt incidence and total marketable yield.
Results
Studies conducted in 2013-14 validates the usefulness of grafting to effectively control bacterial wilt disease of tomato with significant improvement in total marketable yield compared to non-grafted control (Table 1). These studies also demonstrated that drip application of ASM on grafted plants maintained the yield similar to grafted plants. However, there was a negative impact of foliar applications of ASM on yield of grafted plants. There were no statistical differences in bacterial wilt incidence between grafted plants and grafted plants treated with foliar and drip application of ASM.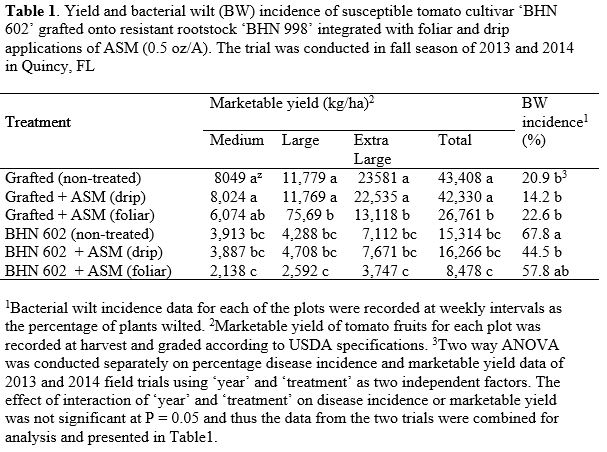 0