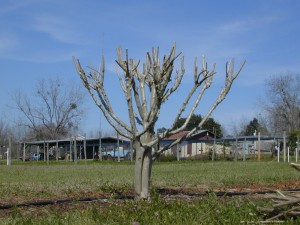 As the holidays fade and the New Year begins, we often see crapemyrtles being "mutilated" from improper pruning: main stems that are several years old are cut back, often leaving branch stubs 2 – 5 inches or more in diameter. This form of crapemyrtle mistreatment goes by various names, including topping, heading, stubbing, rounding, dehorning and (my favorite) "crape murder".
Whatever you call it, topping a crapemyrtle is almost always unnecessary. Over the years, many people viewed this type of improper pruning and unthinkingly perpetuated the practice in their own yards, not realizing the unfortunate consequences.
Research at the University of Florida found that topping crapemyrtle delays flowering up to one month. For example, unpruned trees may begin flowering in June whereas topped trees begin flowering in July. This research also found topping reduced the number of flowers and shortened the flowering season. Finally, topping stimulated more summer sprouting from roots and stems. Sprouting results in greater maintenance since sprouts are usually removed to maintain an attractive plant appearance.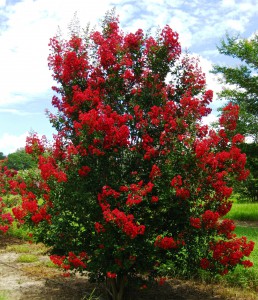 If a crapemyrtle is located where it requires routine pruning to fit into its surroundings (for example, under the eave of a roof), it should be replaced with a smaller growing crapemyrtle. A dwarf crapemyrtle (maturing at a height of 5 feet) would fit this location well. Medium crapemyrtle cultivars (growing up to about 15 feet in height) and tall or tree-size crapemyrtle cultivars (often growing 20 – 30 feet tall in 10 years) are best reserved for open areas.
Crapemyrtle thrives under full sun conditions in areas with ample room for the cultivar size and away from walkways and roads. Proper selection of crapemyrtle cultivar and proper placement in the landscape can result in a low maintenance crapemyrtle without the need for significant pruning.
For more information, please see Crapemyrtle Pruning.
0