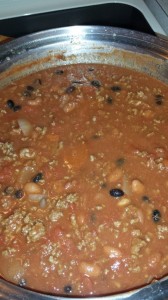 Nothing tastes as good on a cold, winter day as a nice hot bowl of soup. Soups are easy to make and economical. Homemade soups are healthy. They are a great way to pack more vegetables into your diet. You can control the amount of sodium by making your own broth or white sauce or by choosing canned broth and vegetables low in sodium. Use herbs and spices for flavor instead of salt. Be creative – there are endless possible combinations of ingredients that will make a delicious soup.
Soup is easy to freeze for later use: freeze your soup in zipper style freezer bags. You can use the large bags to freeze a family size portion of soup or you can use small bags to make handy individual servings of soup. Freeze bags of soup on a plate to prevent the bags from freezing around the rack making it difficult to remove later. Run the bag under cold water until thawed enough to slip into a bowl or pot for further heating on the stove or in the microwave. You can also freeze soup in plastic or glass food grade, freezer safe containers. Be sure to leave about a half-inch of space at the top to give the soup room to expand when it freezes. Thaw in the refrigerator or run the bottom of the container under cold water until you can pop it out and place in another bowl or pot for further heating.
Here are a few common types of soup for inspiration:
Chili – the origins of chili con carne, or chili with meat, are a little mysterious and highly debated. San Antonio made this spicy dish popular more than 100 years ago. Chili consists of thick meat (pork, chicken, beef, or wild game) and/or cooked dried beans in many variations. Chili with only beans is known as chili con frijoles.
Chowder is a seafood or vegetable stew originating from New England. A New England chowder is recognized by a creamy milk base, whereas a Manhattan chowder boasts a flavorful and less fattening tomato base.
Creams and Purees consist of milk, cream, broth, and/or vegetable purees. Puree vegetables using a food processor, blender, immersion blender, or food mill. Reduce the amount of fat and calories in cream based soups by choosing lower fat alternatives like 2% milk or by using pureed white beans to thicken the soup.
Gumbo originated in southern Louisiana in the 18th century. Highly seasoned and spicy, this stew like dish blends a variety of cultures including French, Spanish, Choctaw, and West African. Gumbo is thickened with okra, file´ powder(dried and ground sassafras leaves, pronounced fee-lay), or roux (a French base made of oil and flour).
Brunswick Stew
1 tablespoon vegetable oil
1 medium chopped onion
1/2 cup chopped pepper – red, green, or a combination (optional)
2 cups chicken broth, low sodium
1/2 teaspoon dried leaf thyme
1/4 teaspoon black pepper
2 cups cooked, diced, and boned chicken or turkey
2 cups tomatoes, canned or cooked
2 cups cooked dry beans OR 1 (15.5 ounce) can beans (drained), such as red beans or Great Northern beans, etc.
2 cups whole kernel corn, frozen or 1 (15.5 ounce) can corn, canned without salt (drained)
Directions:
Heat oil in a large pan. Add onion and cook in oil until tender.
Add all remaining ingredients, except salt and pepper. Bring to a simmer and cook, covered, for 30 minutes on medium-low heat.
Season to taste with salt, if desired.
Recipe Source: Adapted from Virginia Cooperative Extension
For more information on soups, contact UF IFAS Extension Leon County at 850-606-5200 or hughson@ufl.edu.
0