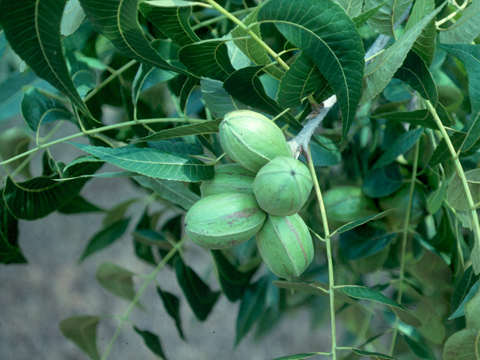 Traditionally, the southeastern United States, and particularly Georgia, was the major pecan producing region in the world. Within the last 20 years, the arid western states (mainly Arizona, Texas and New Mexico) have often produced about 50 percent of the pecans in the United States. The increased production of pecans in the arid west is primarily due to a fungal disease called pecan scab (Cladosporium carigenum). Pecan scab attacks developing leaves and nuts from budbreak until September. This pest thrives under conditions of high humidity and high summer rainfall in the Southeast, and some pecan cultivars require weekly fungicide sprays to control this disease and produce any substantial crop.
Two facts further intensify the redistribution of pecan acreage. First, the west has had a competitive advantage because many new pecan cultivars bred by the USDA pecan breeding program in Brownsville, Texas (such as Western, Western Schley and Wichita) are early maturing and produce a high yield and high nut quality, but are extremely scab susceptible. Second, many older pecan cultivars such as Stuart and Cape Fear which were once resistant to pecan scab now require an intensive spray program to consistently produce a good crop. New strains of pecan scab have been continually evolving.
In the southeastern pecan belt pecan scab has become the overriding concern. Some other diseases of economic consequence to pecan are downy spot, powdery mildew, zonate leaf spot, pecan vein spot and anthracnose. Other limitations to pecan production include lack of tree size control and dwarfing rootstocks, the bearing of high and low yields in successive years (alternate bearing), and competition from other nut crops such as almonds and walnuts that have been more successfully marketed. However, the profitability of pecans has increased during the last five years as a result of increased demand from China, India and other countries.
The performance of 26 cultivars has been evaluated for 11 years at the Agricultural Research and Education Center in Monticello. The highly recommended cultivars from this trial were Cape Fear, Elliot, Moreland and Sumner. Curtis, Desirable, Gloria Grande, Kiowa and Stuart were conditionally recommended. Active pecans research and extension programs exist in Georgia and Alabama. Some rediscovered and new pecan cultivars have shown high yields, good nut quality and excellent resistance to pecan scab.
In Georgia, the recommended cultivars are Elliot (excellent scab resistance); McMillan, Sumner and Kanza (good scab resistance); Oconee, Caddo, Kiowa and Forkert (fair scab resistance); Pawnee and Desirable (poor scab resistance). In Alabama, the recommended cultivars are Excel (excellent scab resistance); Elis, Eclipse and McMillan (good scab resistance); Caddo, Apalachee and Giftpack (fair scab resistance). In Alabama the cultivars recommended for trial include Kanza, Gafford and Headquarters (excellent scab resistance); Sumner and Elliot (good scab resistance); Creek and Mandan (fair scab resistance); Pawnee and desirable (poor scab resistance).
A low input, sustainable pecan planting was established in 2011 at the NFREC-Quincy. The objective was to test many of the new cultivars adjacent to some of the established cultivars. The orchard consists of 17 cultivars with varying degrees of scab resistance. No fungicides or insecticides were applied. The summer of 2013 was particularly wet and humid with about 25 inches of rainfall recorded for July. These weather conditions created an opportunity to evaluate scab resistance in a worst case scenario.
The chart below shows resistance ratings to pecan scab on leaves evaluated August 28, 2013. These preliminary data were obtained from 3 year old trees. Long-term data will be collected concerning tree growth, yield, nut quality, resistance to pecan scab, as well as resistance to other diseases and insect pests.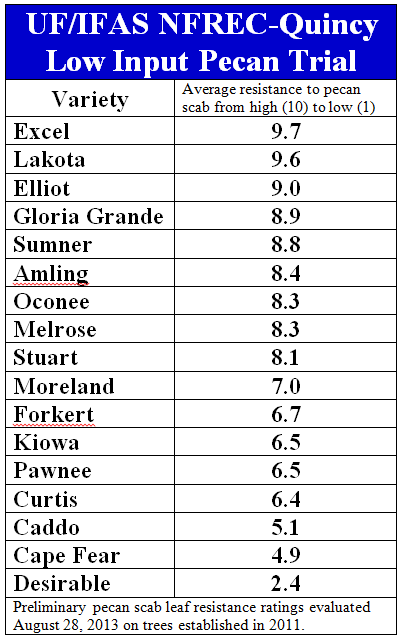 0