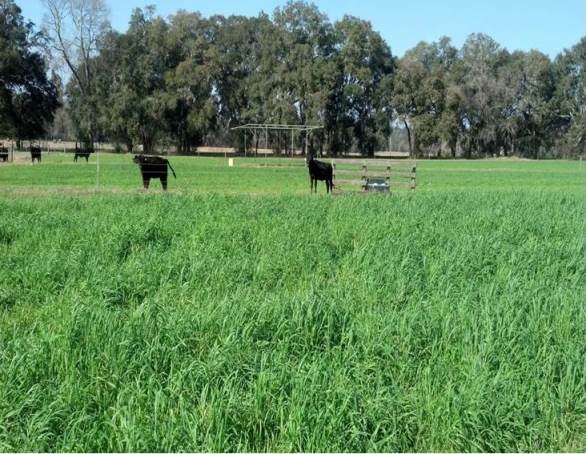 Normal
0
false
false
false
EN-US
X-NONE
X-NONE
/* Style Definitions */
table.MsoNormalTable
{mso-style-name:"Table Normal";
mso-tstyle-rowband-size:0;
mso-tstyle-colband-size:0;
mso-style-noshow:yes;
mso-style-priority:99;
mso-style-parent:"";
mso-padding-alt:0in 5.4pt 0in 5.4pt;
mso-para-margin-top:0in;
mso-para-margin-right:0in;
mso-para-margin-bottom:10.0pt;
mso-para-margin-left:0in;
line-height:115%;
mso-pagination:widow-orphan;
font-size:11.0pt;
font-family:"Calibri","sans-serif";
mso-ascii-font-family:Calibri;
mso-ascii-theme-font:minor-latin;
mso-hansi-font-family:Calibri;
mso-hansi-theme-font:minor-latin;}
Nicolas DiLorenzo, UF/IFAS NFREC Beef Nutrition Specialist
The days are getting shorter and the nights cooler. It won't be long until summer bahiagrass and bermudagrass pastures will go dormant after the first killing frost. Ranchers have some tough decisions to make on the most practical, and economical options to feed their cattle herds this winter. Winter forage are not inexpensive. The typical cost of annual forage seeds range from $13/acre for ryegrass to $36/acre for rye or triticale. Fertilizer ranges from $110 to $160/acre. Add in labor and fuel, and the total cost of winter pasture can range from $190 to $260 per acre. This type of investment in winter grazing must provide additional returns, such as labor savings, greater weight gains, and an extended grazing season. This is the annual dilemma of whether to plant winter annuals or feed hay and supplement with grain or byproducts. Every year is different, and weather plays a huge role in the success of the winter grazing season. One often overlooked factor that is critical to the success and feasibility of winter grazing is utilizing the correct stocking rate, and knowing how much a given area can produce.
Winter forage systems in Northwest Florida have traditionally relied on oats and ryegrass the with the occasional use of legumes, such as crimson clover. The use of more drought and disease tolerant species, such as rye or triticale, is becoming more popular in dry-land beef-forage systems. Recent research conducted at the North Florida Research and Education Center, document additional weight gains on yearling heifers when rye and triticale where planted in blends with ryegrass. The rye-ryegrass blend improved average daily weight gains (ADG) 1.1 lbs./day, and the triticale-ryegrass 2.4 lbs./day during the last 28 days of grazing. This added performance is due to the excellent protein and energy content of the small grains. Whether for replacement heifers or lactating cows, this added performance can truly make the investment worthwhile.
Estimating the optimal stocking rate is necessary to determine how many acres of winter grazing to plant. To address this issue, the University of Florida – Feed Efficiency Facility (UF-FEF) in Marianna was utilized to determine the intake of fresh winter forages fed free-choice. The UF-FEF is equipped with a system that allows the determination of individual animal feed intake. Winter forages were cut fresh every day and fed to heifers (803 lb. in average) in the UF-FEF in order to estimate feed intakes under simulated grazing conditions. In winter grazing situations, feed intake is limited by the gut fill of the animal, due to the bulkiness of the forage. It is for this reason that daily dry matter (DM) intakes of around 1 to 1.5% of their body weight (BW) are common in cattle grazing a ryegrass pasture, while feed intakes of around 2 to 2.5% of their BW are common in cattle consuming free-choice hay. The amount of water consumed with the forage limits the amount of nutrients consumed. When forages have a low DM content (20% or less) a good rule of thumb is to estimate an intake of 9 to 10% of the animal's BW in fresh (as is) forage. The table below was created with data from the University of Florida NFREC to provide a general idea of the number of grazing days provided, or an average stocking rate for winter forage pastures at different levels of productivity. Winter grazing is an excellent option for feeding cattle, but it does take some planning and preparation.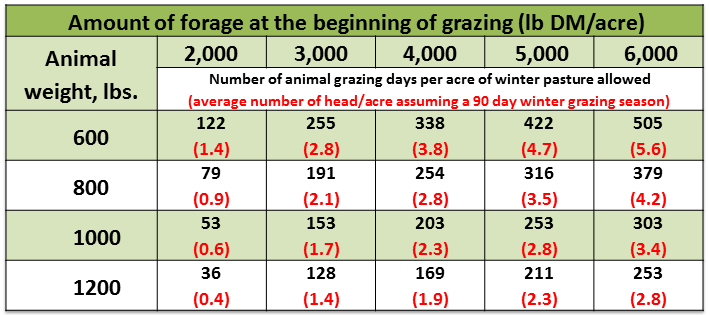 0