Hopefully, by this time of year, most north Florida gardeners have harvested their figs and are enjoying fig preserves or fig bars. But if you've noticed your fig leaves dropping a little early, it may be a sign of the fungal disease Fig Rust (Cerotelium fici).
Figs are a great fruit tree for the north Florida home garden. Not only do they provide a tasty reward (if you can keep the birds and squirrels away), but they are fairly easy to maintain and are bothered by relatively few pests and diseases. One of the few diseases that can be common, however, is fig rust, especially when conditions are favorable. In the case of fig rust, a fungus, warm humid weather is what it likes and well, we have plenty of that.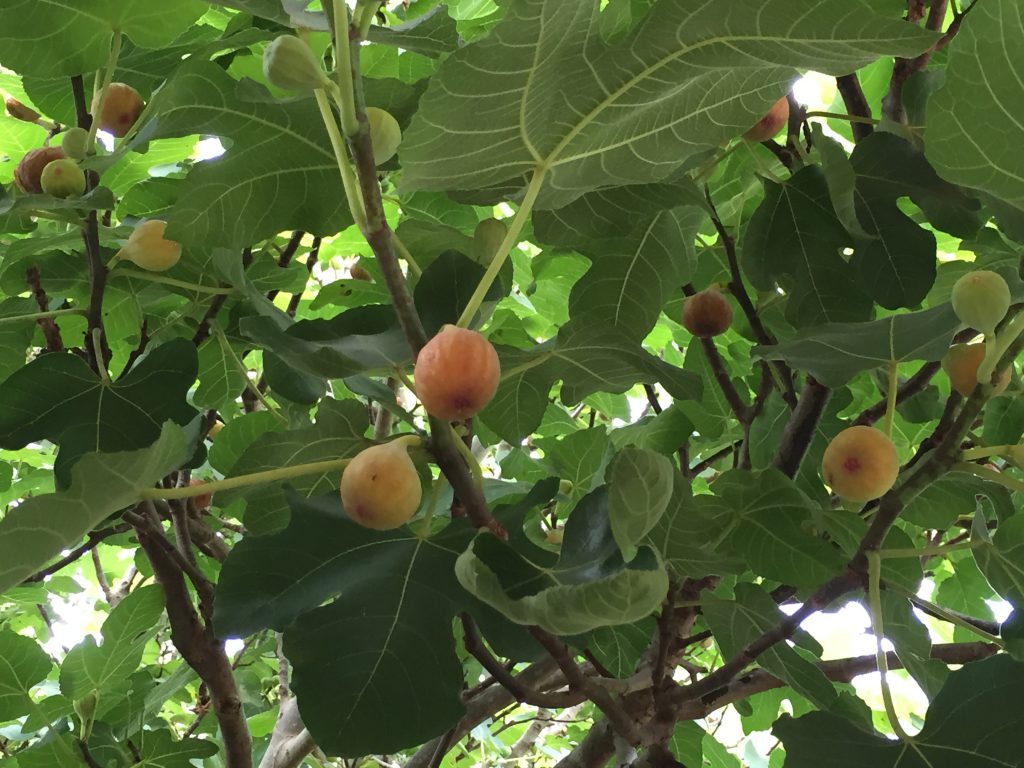 The first signs of the fig rust disease are small yellow to yellow-green spots/lesions on the upper surface of the leaf that turn a reddish-brown color as they get larger. A heavy infestation causes the leaves to turn yellow and drop early. While fig rust does not injure the fruit, repeat occurrences of premature leaf drop can adversely affect the overall health of the tree, resulting in yield loss. Another concern is that if the leaves drop too early, the tree will flush out with new growth heading into winter. This new growth can be injured by early freezes and cause a loss of fruit the following season.

What can you do to prevent and/or cure fig rust? Unfortunately, once you see the yellowish-green/reddish-brown spots on the leaves, it's too late to provide any control. As always, proper cultural practices can help. Pruning the tree to provide adequate airflow keeps the leaves as dry as possible during our humid summers. Remember to prune fig trees in Florida after fruit harvest, not in the dormant season, since fruit is borne on previous year's growth. Another cultural control to prevent fig rust is to rake diseased leaves out from under the tree. The fungal spores in the fallen leaf litter pass the disease on to next year's leaves. Other cultural controls include providing adequate moisture and placing a healthy dose of mulch around the tree. Figs require minimal fertilizer. Using a general complete fertilizer with micronutrients (such as a 10-10-10), young trees should receive 1 cup (1/2 pound) and mature trees 4-8 cups (2-4 pounds) per year.
There are currently no chemical controls approved for fig rust in Florida. The classic Bordeaux mix is recommended by various authors to be used as a preventative fungicide during the dormant season, before the lesions appear on the leaves. The Bordeaux mixture is a mix of copper sulfate, lime, and water in a 1:1:10 ratio and is considered an organic pesticide. This mix has been used since the late 19th century and was discovered by accident after botanists and farmers realized that grapevines sprayed with the mix to deter theft had less fungal problems. As with any pesticide, be cautious when using. Overuse of copper-based fungicides can cause copper to build up in soils, leading to potential issues to plant and human health.
While figs are generally worry free for our area, fig rust is one disease to be on the lookout for. Good gardening practices can reduce the occurrence of this disease and ensure a bountiful harvest. For questions on growing figs or about the fig rust disease, visit the UF/IFAS EDIS website – edis.ifas.ufl.edu – or contact your local Extension office.
0