Livestock and hay producers from the Tri-State Region are invited participate in a Twilight Cool-Season Forage Tour hosted by the Panhandle Ag Extension Team. The event will be held on Tuesday, March 17, 2020, at the North Florida Research and Education Center – Marianna Agronomy Unit from 4:30 – 6:00 PM CDT. With the change to Daylight savings time on March 8, there should be ample time and daylight to tour the plots, followed by a question and answer session.
Dr. Ann Blount, UF/IFAS Forage Breeder, and Dr. Jose Dubeux, Forage Management Specialist, will guide the tour through the cool-season forage research and demonstration plots at the Station. This is a great way to see how the new, improved varieties compare to the old standards. There is also a trial comparing different seeding rates of traditional oats and black oats. Dr. Cheryl Mackowiak, Forage Soil Specialist, will also provide a discussion of real-time nitrate and brix (sugars) sampling, and how this information can be helpful. She will also be available to answer questions about forage fertilization. Touring these plots now will help you decide which cool-season forages are the best choices to plant on your farm later this fall.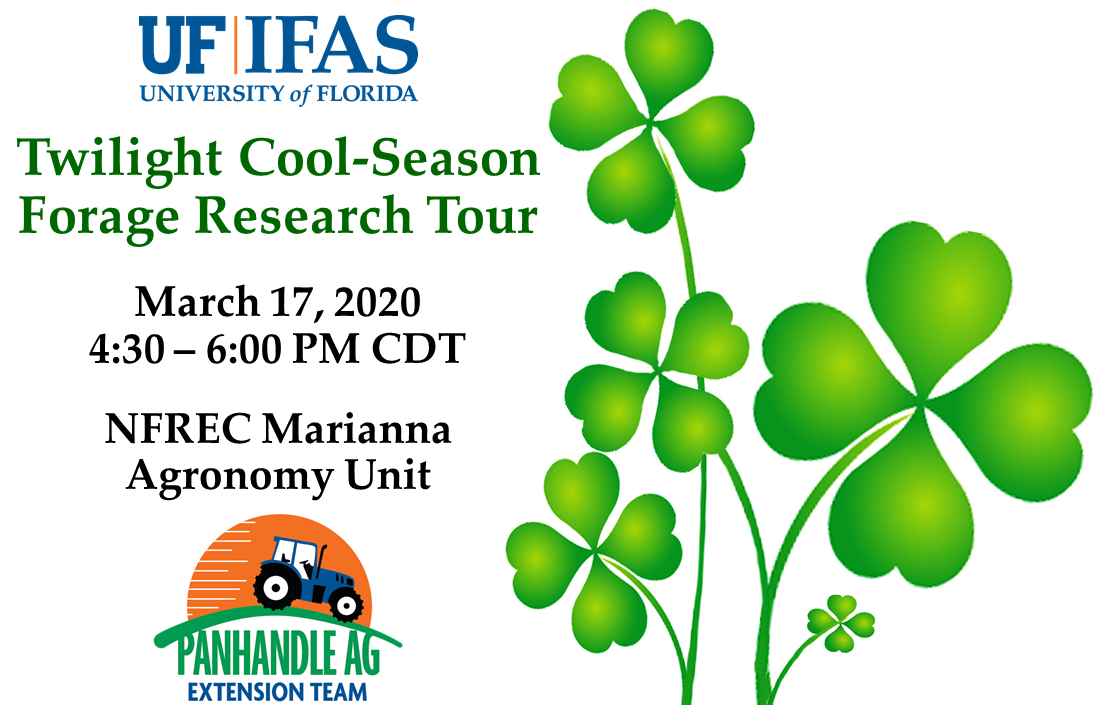 What better way to celebrate St. Patrick's Day than to tour the greenest crops around at this point in the year? Drop by at the end of the day, or right after work and enjoy some St. Patty's Day snacks and talk forages with the local experts. Who knows, you might even find a 4-leaf clover while you are out there?
To RSVP, so we can prepare adequate snacks, or to get more information, contact the Jackson County Extension Office – 850-482-9620
Tour Location:
NFREC Marianna – Agronomy Unit
3925 Florida Highway 71, Greenwood, FL 32443
Once at the Station, look for directional signs to the plots in the field.
0