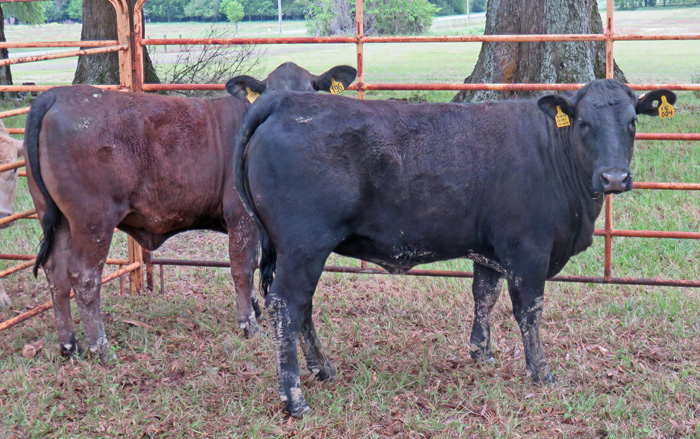 2016 was a tough year in the cow-calf business. Rancher's incomes were reduced 50% as compared to previous years. Needless to say, ranchers are looking for methods to reduce costs in 2017. One proven practice to save money is to pregnancy test the breeding herd, and cull open, or non-pregnant, cows as soon as possible.
Chris Prevatt, UF/IFAS Regional Livestock Economist, developed a cow-calf budget for Florida using actual costs from multiple beef herds. The variable costs for pastures and purchased feed in the budget add up to almost $400 per cow each year. If you keep open cows past weaning, it will cost you at least $200/cow to graze and feed them through the end of the calving season. In today's cattle market, these freeloaders need to be culled and sold, once their current calf is weaned. Culling the 5-15% of the herd that is open saves valuable resources for the cows that are pregnant and will be providing income for the herd in the future.
Ranchers now have several options for pregnancy testing their herd. You can hire a veterinarian to ultrasound or physically palpate each cow, or you can draw blood and do it yourself. Both options will identify open cows with consistently high accuracy, but they each have advantages worth considering.
Experienced veterinarians can detect pregnancies as early as 28 days after conception with ultrasound equipment, or 35-45 days after breeding through physical palpation, with no restrictions on the previous calving date. The results are immediate while the cow is still in the chute, offering ranchers more management options for the cows that are open. Experienced veterinarians can also provide an estimate of the age of the fetus to calculate an approximate calving date. Plus, having the vet see each individual animal in the herd on an annual basis is always helpful, because questions about other health issues can also be addressed. Having an established relationship with a vet is also important with the new Veterinary Feed Directive (VFD) rules. If you intend to utilize feeds that include antibiotics, the required vet/client relationship would already be established.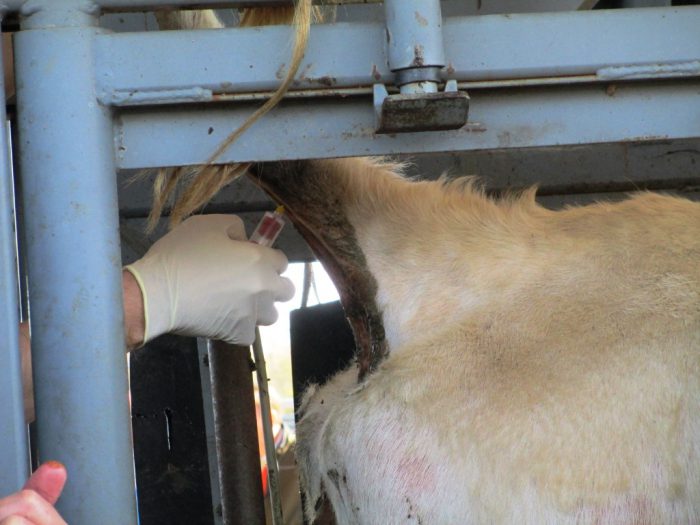 Relatively new technology is available to rapidly test cattle for pregnancy with a simple blood test for the presence of pregnancy-associated glycoproteins (PAGs). Ranchers can collect 2 cc's of blood from a cow, ship it to a lab for analysis, and receive results 27 hours after the lab receives the sample. There are two organizations that analyze blood for pregnancy: BioPryn and AgSource. The pregnancy blood tests are 99% accurate for open cows, and 95% accurate for pregnant cows, if the blood samples are collected at the right time. The blood test must be collected at least 30 days after breeding. Lactating cows have PAG in their blood for up to 90 days after calving, and could provide a false pregnant test. Therefore, blood samples must be collected at least 73 days post-calving for the BioPryn test, and 90 days post-calving for the AgSource test, and 30 days after A.I. or bull breeding. The lab test results are simply: positive (pregnant) or negative (open), with no age estimate for the fetus.
The big advantage for the blood test system is that drawing blood samples is a much easier skill to master than rectal palpation, so with minimal training, ranchers can do this for themselves. This is especially helpful for small herds, primarily managed on weekends or after normal work hours. Since blood samples have to be shipped off for analysis, cows would generally have to be brought back to the pens for sorting at a later date, after receiving the lab test results.
Here is an example of how blood test pregnancy testing might be used to better manage a commercial herd. Let's say your herd has a 90 day breeding season of January 1 – March 31. That would result in a calving season of approximately October 10 through January 7. The cows in this herd would be cleared for testing after April 7th. This would not, however, be 30 days post-breeding, so the blood test would have to be given after April 30. In this example ranchers could identify open or non-pregnant cows in May, and manage these cows accordingly.
If you are interested in blood test pregnancy diagnosis, or the skills and equipment needed to collect blood samples, contact your local County Extension Agent. You can also get more detailed information from the commercial lab websites: BioPryn or Ag Source. The lab test ranges from $2.50-$3.00 per cow, plus the cost of tubes and needles, and shipping. BioPryn has an affiliate lab located in Cottonwood, Alabama (just north of Marianna), so it is possible to deliver samples for faster results.
CGR Diagnostic Laboratory
35 Oats Road, Cottonwood, AL 36320
Phone: (334) 796-9567
Email: gbrussell51@msn.com
Whether you hire a veterinarian or collect blood samples for testing yourself, pregnancy diagnosis can generate considerable cost savings for a beef herd. Replacement heifers and open cows without calves nursing at side can be culled and sold immediately. Open cows with nursing calves at side can be sorted off and sold immediately after weaning. Knowing the number of replacements needed to maintain herd size in early summer allows more preparation time to identify raised replacements heifers, or to find a suitable source for purchasing them. The main point is to conserve precious pasture, hay, and purchased feed resources for the pregnant cows that will provide income down the road, and not waste them on open cows and heifers.
For more information related to this topic:
0