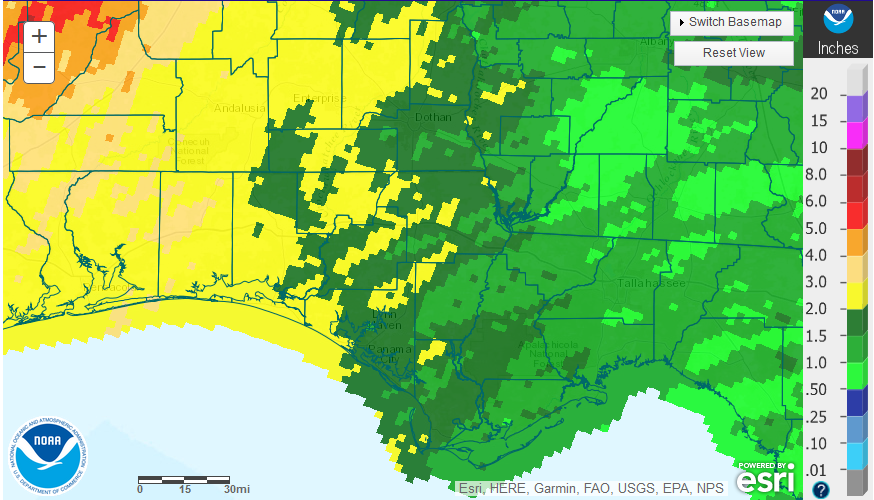 Rainfall
The National Weather Service rainfall estimates ranged from as little as 0.5″ to 4″ across the Florida Panhandle in March 2017. The western counties had higher totals with 3-4″ in the tan sections, and 2-3″ in the yellow. The eastern counties ranged from 1.5-2″ dark green, 1-1.5″ green, and isolated ares of only 0.5-1″ in light green. Most of the region received more rain in the first week of April (2-5″), than the entire month of March.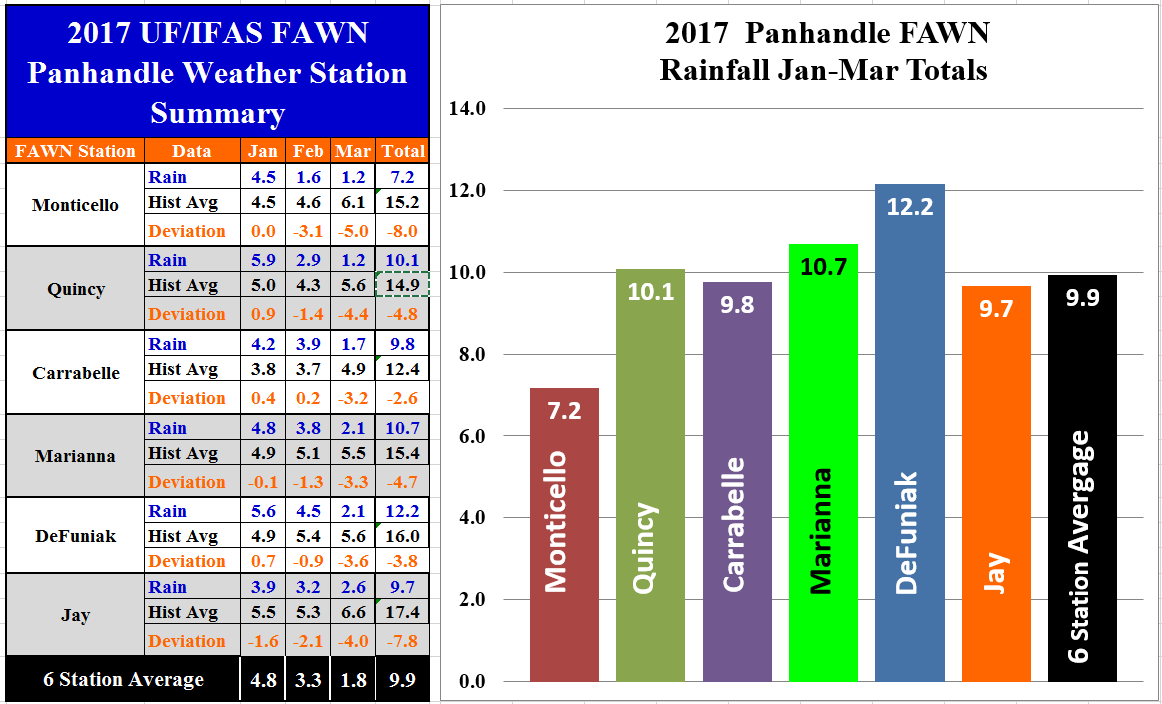 The six Florida Automated Weather Network (FAWN) stations also showed some variation in rainfall across the region in March. All six stations recorded below historic averages for each location. The driest location was Monticello with only 1.2″. The Jay station had the highest total with 2.6″ in March. Through the first quarter of 2017, the DeFuniak station has recorded 12.2″, while the Monticello station only 7.2″. The average for all six stations was 9.9″ through March, more than 5″ below historic average for the first quarter of the year.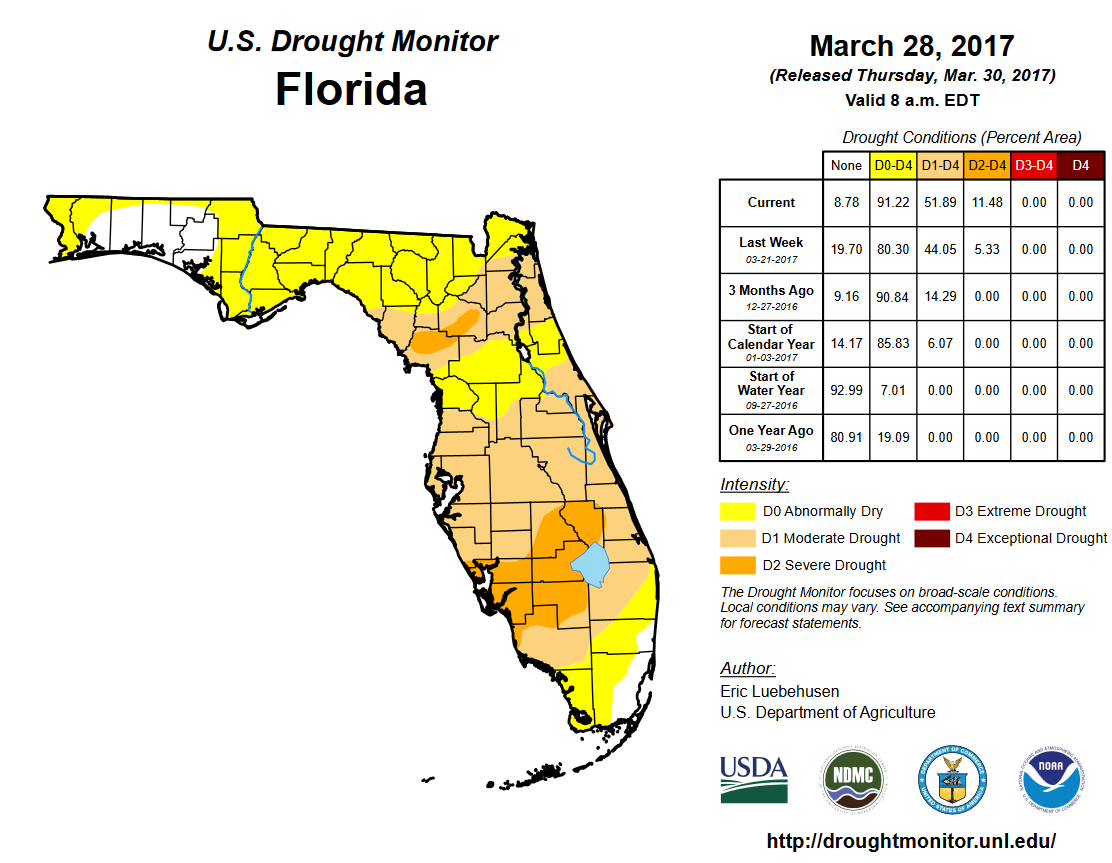 Not surprisingly, much of the Panhandle joined the rest of Florida in the Drought Monitor at the end of March. Only Washington County has been left out of the abnormally dry category as of March 31st. April showers are expected to reverse this trend in the drought forecast, however, as seen in the Climate Prediction Center's drought outlook below.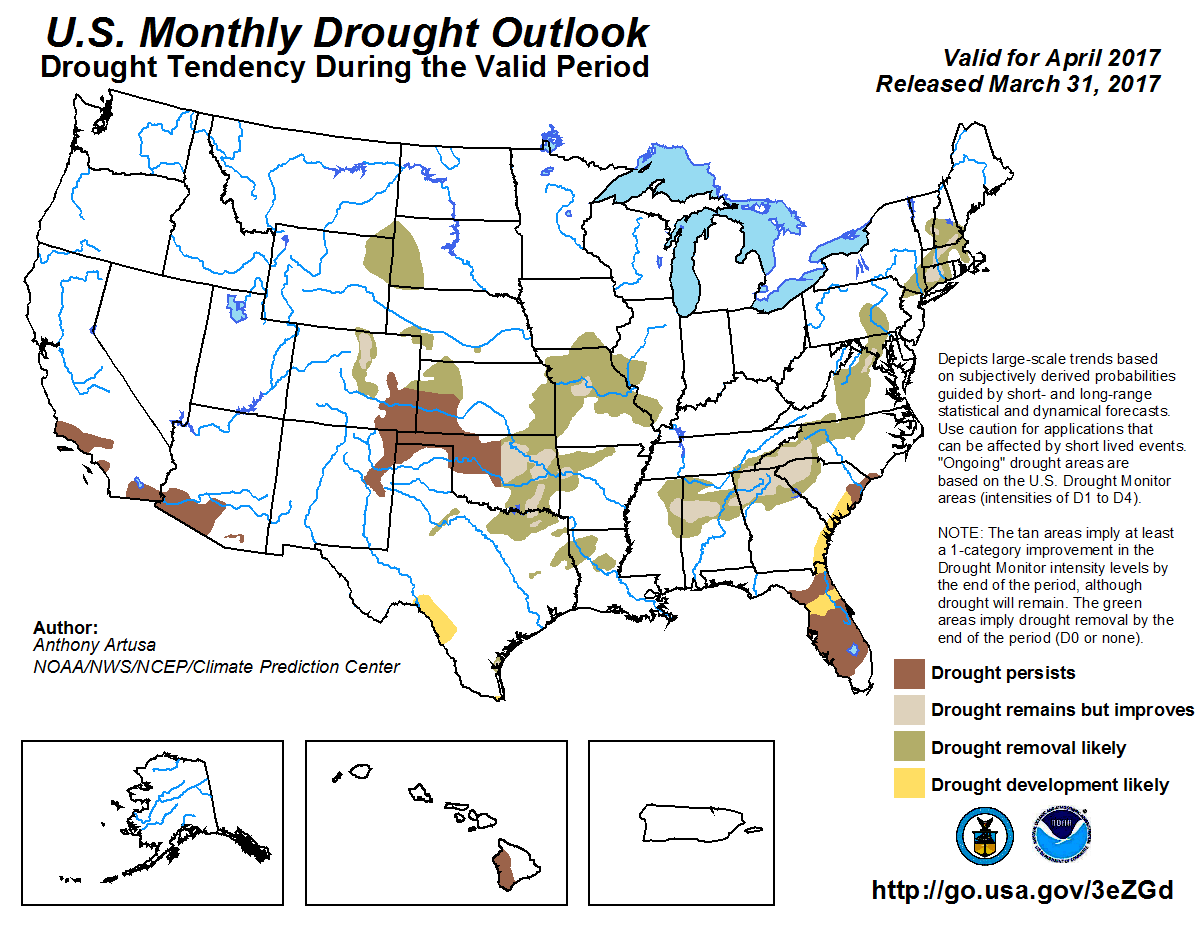 Temperature

Temperatures in March ranged from a low of 29° on March 16, to a high of 88° on March 22 (59° range in only 6 days). The average air temperature for the month was 62°, only one degree warmer than February.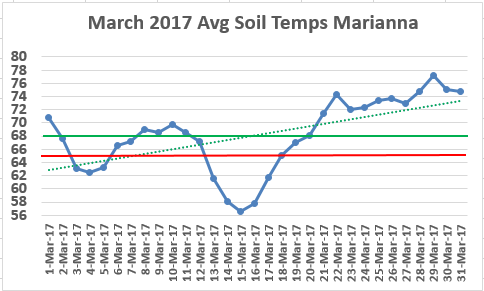 The average soil temperature chart above shows how much the temperatures rose and fell in March, from a low of 57° on March 15 to a high of 77° on March 29. The red line highlights 65°, which is the minimum recommended temperature for planting peanuts and cotton, and the green line highlights 68°, which is the ideal temperature for planting these crops. Soil temperatures have been warm enough for planting since March 20th. This can change quickly in April with a passing cold front, but it is encouraging as planting season draws closer.
Planting Season Outlook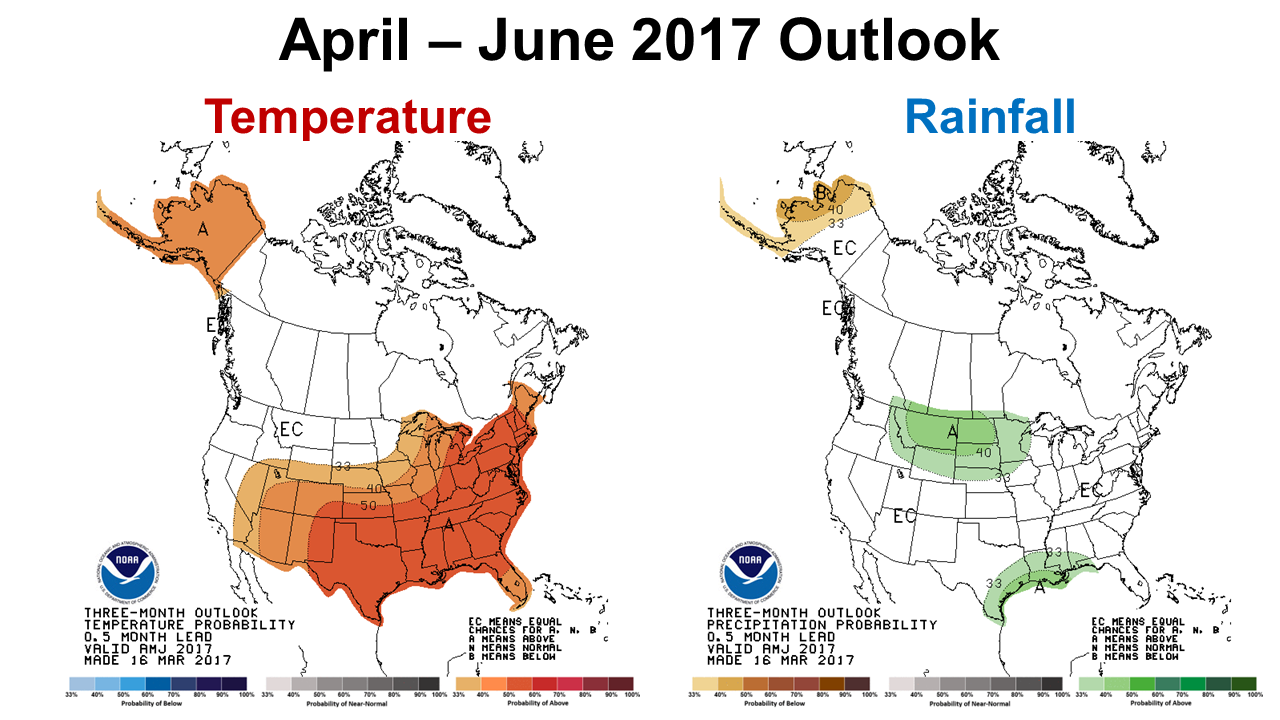 The Climate Prediction Center (CPC) three month outlook for April through June is predicting warmer that average temperatures, but only the western Panhandle counties have a 33% chance for above average rainfall through the planting season.
El Niño Watch
The CPC also monitors the ENSO phases of the Pacific Ocean. The CPC reports that neutral conditions currently exist, and are expected to continue through May. An El Niño is possible later this summer and fall.
Most models predict the continuation of ENSO-neutral through the early Northern Hemisphere summer (May-July). However, some model forecasts anticipate an onset of El Niño as soon as the late Northern Hemisphere spring (March-May2017). Because of typically lower skill in forecasts made at this time of the year, and the lingering La Niña-like tropical convection patterns, the forecaster consensus favors ENSO-neutral during the spring (March-May) with a ~75% chance. Thereafter, there are increasing odds for El Niño toward the second half of 2017 (50-55% chance from approximately July-December). In summary, ENSO-neutral conditions are favored to continue through at least the Northern Hemisphere spring 2017, with increasing chances for El Niño development into the fall.
Climate Prediction Center
0