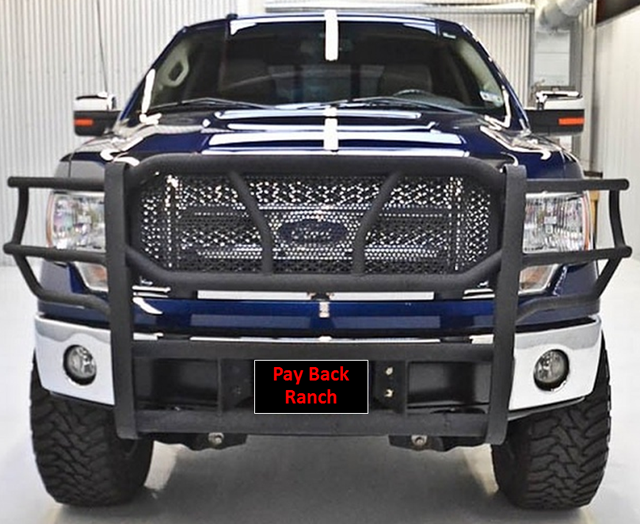 When the cattle market peaked back in 2014-15, a Panhandle Rancher decided it was finally time for a new truck. The 20-year-old truck he had patched and repaired for the past 10 years was so well used that the Rancher's wife refused to ride in it with him to town. Since it had been some time since he had bought a truck, the rancher contacted a friend, of a friend, of a friend that worked at the local Ford Dealership.
The rancher said to the Car Salesman, "What is a basic ranch work truck selling for these days?" The salesman replied that he could get a basic new truck for around $30,000. The rancher replied, "Wow that is a whole bunch of calves, but I kept the last one for 20 years, so I guess I can depreciate out a new one for at least the next 10 years." The salesman said, "Come on down to the dealership next week, and I will help you find a good ranch truck."
The rancher arrived at the dealership to meet the salesman that was refereed to him by his friends', friend's, friend. The salesman asked, "So what type of truck do you need?" The rancher replied, "Just a basic ranch truck, nothing too fancy." The salesman then started asking some questions, "Do you need four-wheel-drive? Do you need a 3/4 ton truck to pull your trailer? Do you want an automatic transmission? Do you want air-conditioning? Do you need a towing package and a grill guard? Do you want oversized trailer mirrors? Do you need a tool-box for your tools? Do you need floor mats for your muddy feet? Do you want a king-cab so you can keep your records, receipts, and coat clean and dry? The rancher interrupted, "Sir these are all things a rancher needs on a basic ranch work truck!' The salesman replied, "Well they may be standard to you, but they aren't to Ford Motor Company."
Their discussion about what was needed on basic ranch truck went on for several more minutes and finally the salesman said, "I have three trucks on the lot that are just what you need. Do you want a white one, a blue one, or a brown one?" The rancher replied, "I don't really care that much, but I don't think I want brown, and the white one will show all of the mud and dirt, so I will go with the blue one." The salesman said, "Ok Let's take it for a test drive."
While out on the test drive the salesman said, "You know I would really like to have 10 or 12 cows myself. What does a basic cow sell for these days?' The rancher replied well cows are sort of like trucks, an average cow, or the basic model as you might call them, sells for around $1,000."
The rancher really enjoyed the test drive and the visit with his new acquaintance. Everything was fine until they got back to the dealership to fill out the paperwork. He started signing sheet after sheet and finally asked, "So what is the total cost of this truck? The sales man replied, "$44,860" "What?" said the rancher, "I thought the basic truck sold for around $30,000?" The salesman replied, "Well we added considerable extras to the basic model, 4×4, automatic transmission, air-conditioning, 3/4 ton suspension, heavy-duty breaks and cooling, extra-large mirrors, toolbox, heavy duty towing package, and floor mats." Well the rancher was not at all happy. He felt that he had been mislead, but he had already invested a day, and really like the truck, so he bought it.
About a year later the salesman called the rancher up to see how he liked his truck, and then asked if he had any cows for sale? The rancher got a twinkle in his eye. It was payback time. He replied, "Sure I have some cows for sale. Come take a look at them later this week."
The salesman really enjoyed riding through the pasture with the rancher in his nice truck looking at cows. He was as tickled as he had finally saved up enough to live out his childhood dream of being a real cowboy. He told the rancher, "I'll take 10 of them!" The rancher said,"Ok that will be $44,860!" The salesman said, "What? I thought that cows sold for $1,000?" The rancher replied, "That was for the basic model, these cows come with considerable extras!" And he handed the salesman the following sheet that he had his wife made up the night before on their home computer:
Basic Cow with Options
Basic cow $999
Shipping and handling $85
Self-propelled, auto-steer forage finder $969
Extra-large capacity stomach $379
Genuine cowhide upholstery $179
Two tone exterior $142
Heavy duty forage choppers $189
Four spigot/high-output milk system $159
Automatic fly-swatter $88
Automatic fertilizer attachment $139
4 x 4 traction drive assembly $884
Ranch brand leather-work $69
Rancher's Suggested List Price $4,286
Ownership Transfer fee: $200
Total Price (Including options): $4,486
*************************************************************************************************************
If you enjoyed this week's joke, you might also enjoy others from previous weeks: Friday Funny
Farm folks always enjoy sharing good jokes, photos and stories. If you have a good, clean joke, particularly one that pertains to agriculture, or a funny photo that you took on the farm, send it in and we will share it with our readers.

0