Panhandle December 2015 Weather Summary
December was a very wet month for much of the Panhandle, but there was wide variation with eastern counties having much lower totals.  The areas in hot pink show areas that received more than 10″ in December.  Portions of Jefferson and Wakulla had less than 2″ for the month.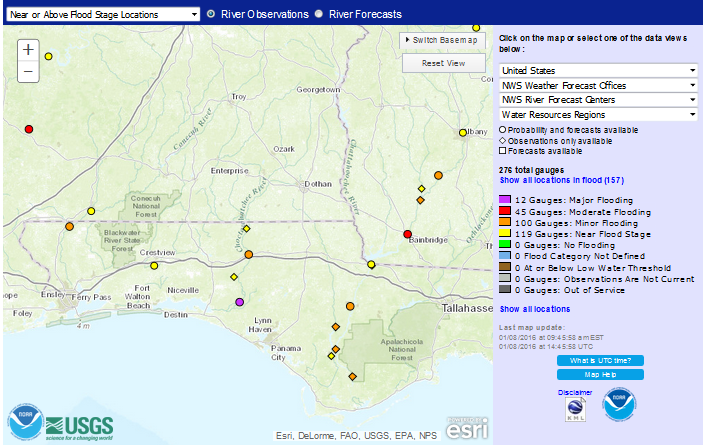 With so much rain at the end of December, major rivers in the Southeast have been near or above flood stage, which is very unusual for this time of year.  The rivers have been falling again, but the sea temperatures that cause El Niño are as warm as they have been since 1997.  With several months of above average rainfall expected, river flooding could become a major issue over the first quarter of 2016.  The chart above shows that currently only the Choctawhatchee River is at major flood stage this week, with minor flooding along the Apalachicola River.
The six Florida Automated Weather Network (FAWN) stations also show the wide variation in rainfall totals for December with a low of 3.1′ in Monticello and a high of 9.7″ at the Jay station.  Only Monticello had below average rainfall for the month.  For the entire year, DeFuniak was by far the wettest location, with more than 78″ in total, while the station at Carrabelle recorded only 48.7″ in 2015.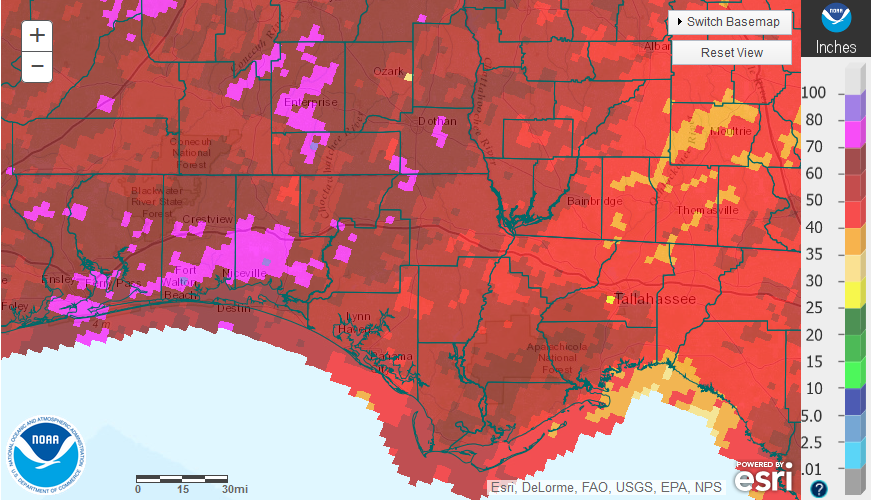 Of course these six stations provide very accurate data, but only for their exact for one location.  To get the true picture for the whole are NOAA is generates graphic estimates for a much broader area. The graphic above represents NOAA estimates for annual rainfall in the Panhandle.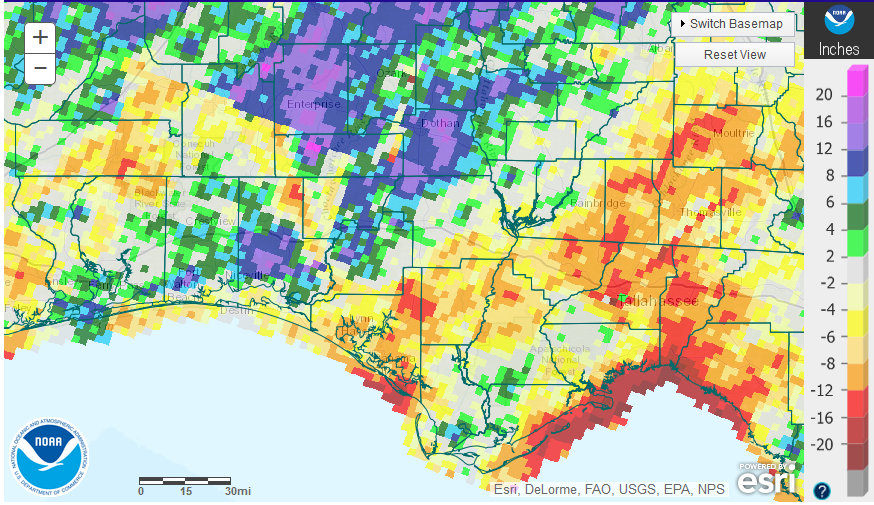 This chart shows departure from normal rainfall for the year.  There was quite a bit of variation in the region ranging from more than 12″ below average to more than 16″ above average in 2015.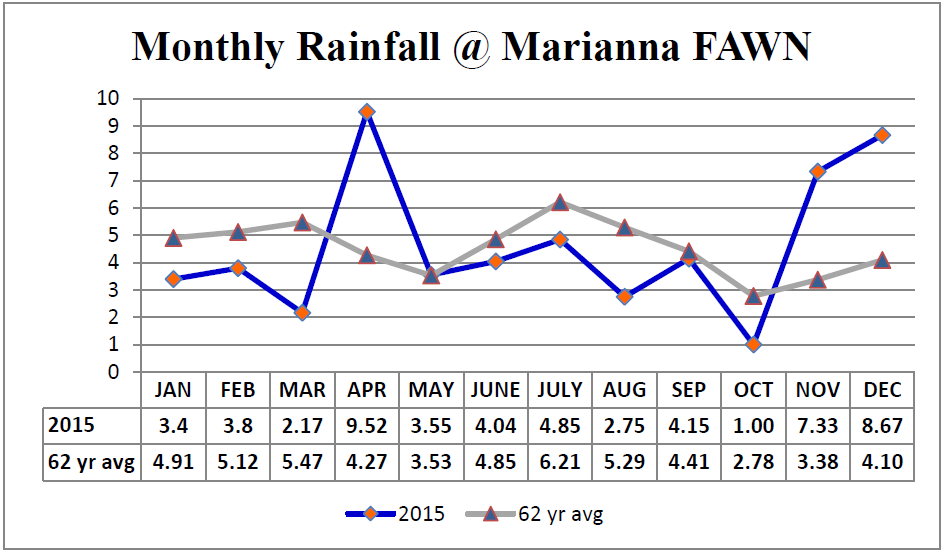 Annual rainfall totals can be deceiving, because 2015 was a year with wide variation.  It seemed it was either too wet or too dry, but seldom normal.  That chart above from the Marianna FAWN Station shows that April, November and December were well above average while the other nine months were at or below average.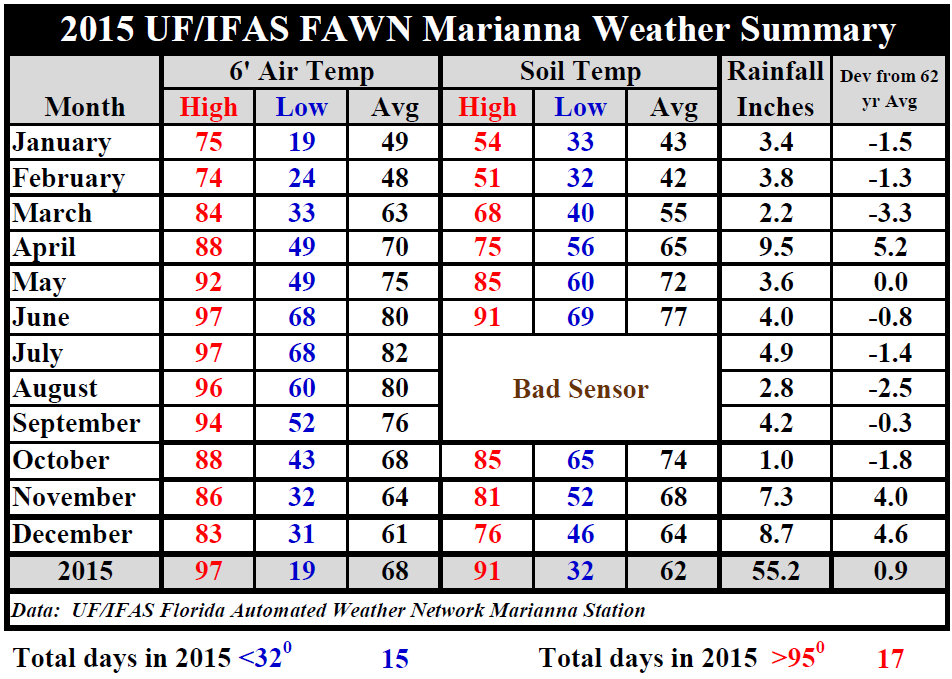 Not only was December wet, but also very warm.  The average air temperature was only 3 degrees lower than November, and the soil was only 4 degrees cooler than the previous month. Download the full daily temperature and rainfall summary from the Marianna FAWN station for more details on the weather in 2015: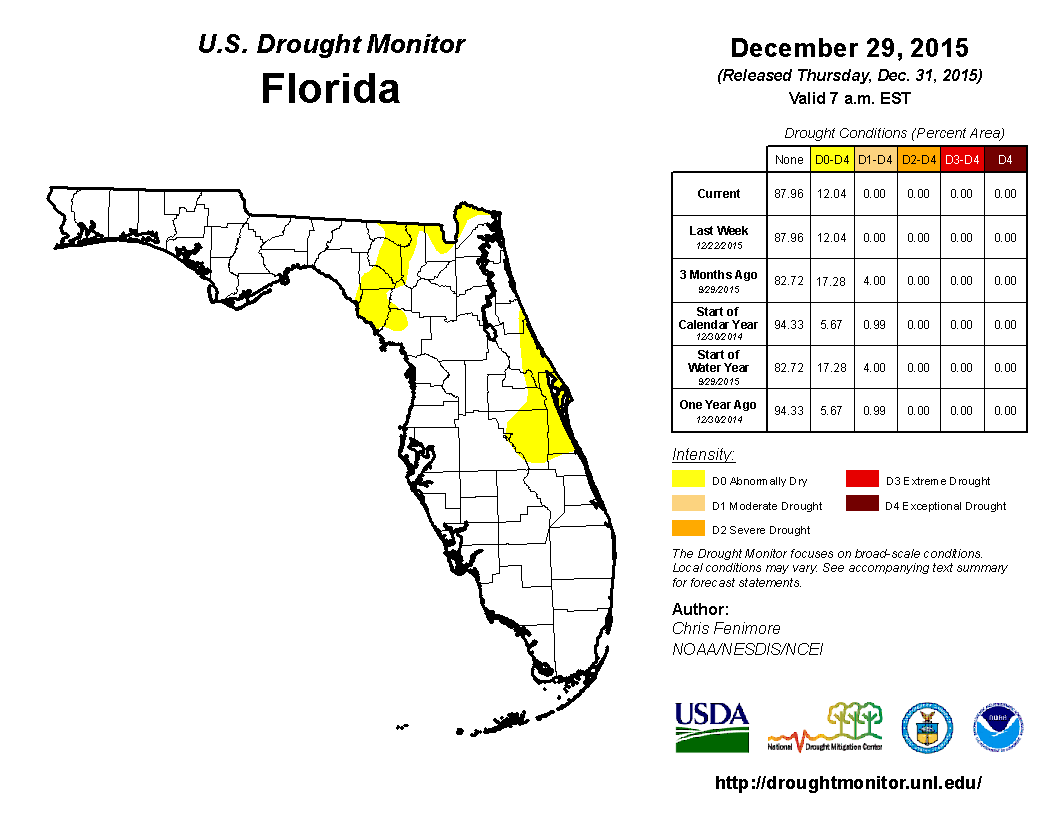 All the rain the last few months has removed the Panhandle from the US Drought Monitor.  El Niño caused major issues with late fall crop harvest, but it did end the drought in the region.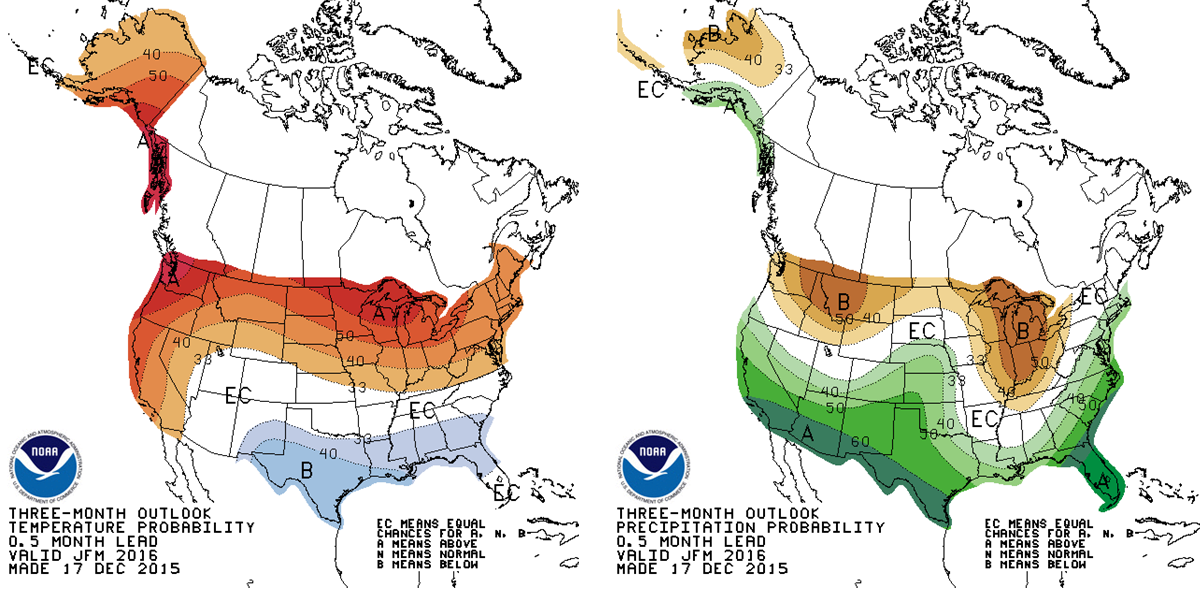 Looking ahead to the first three months of 2016, the Climate Predication Center is forecasting below average temperatures and a high probability for above average rainfall across all of Florida. They are expecting that El Niño will continue to impact weather patterns for the next three months.  It does appear that 2016 is going to get off to wet start.  Certainly small grain farmers will need to protect their crops from fungal disease.  How long will this pattern hold?  What impact will it have on corn and vegetable planting, and possibly even cotton and peanut planting later in May? It all depends on when and how much the sea surface temperatures cool down.
The Climate Prediction Center's El Niño forecast remains the same as it was last month:
Most models indicate that a strong El Niño will continue through the Northern Hemisphere winter 2015-16. The forecaster consensus remains nearly unchanged from last month, with the expectation that this El Niño will rank among the three strongest episodes dating back to 1950. El Niño is expected to remain strong through Northern Hemisphere winter 2015-16, with a transition to ENSO-neutral anticipated during the late spring or early summer.