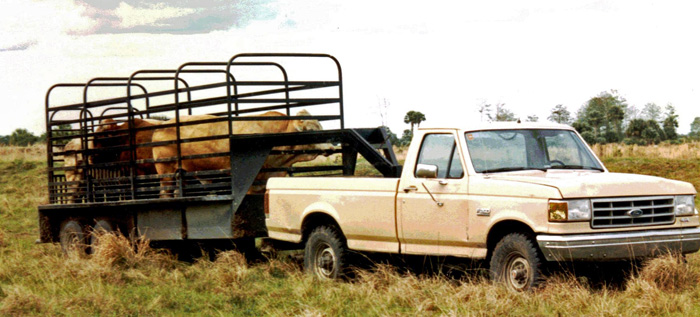 Since 1991, when the Beef Checkoff funded the first beef quality audit, the U.S. Cattle Industry has made major strides in their efforts to improve the quality of the retail beef sold to consumers. There were quite a number of key issues that were identified and the Beef Quality Assurance (BQA) cattle producer educational program was developed to provide guidelines and training for cattle producers and their employees to protect the eating quality of retail beef. BQA training is something that every cattle producer should pursue as a powerful way to document the dedication the industry has for producing a safe, wholesome, and healthy beef supply.
One issue that was identified was bruising. In 1994, 80% of cull cow carcasses had some level of bruising. Not only is bruising a beef quality issue, but also a humane handling issue as well. In the chart below you can see that national progress has been made particularly with the cull cows, but there is still room for improvement.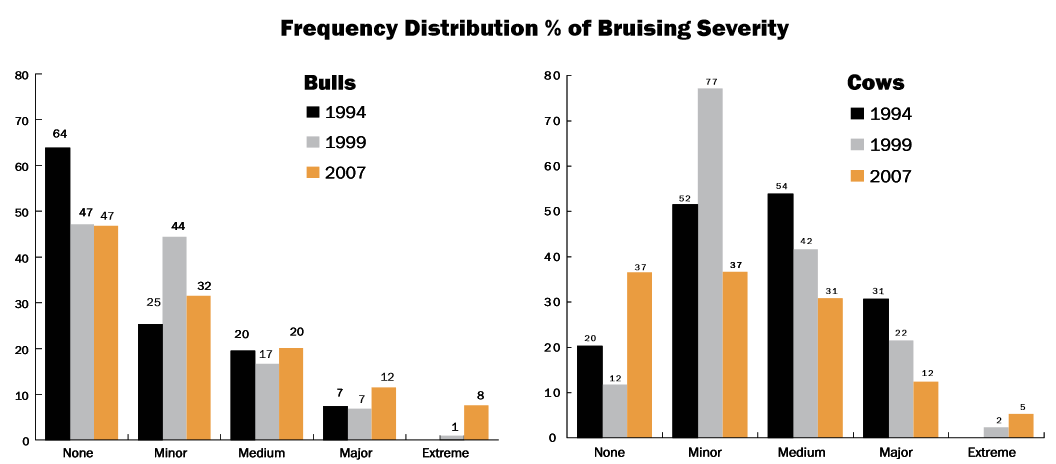 One of the common ways cattle get bruised is during transportation from the ranch to the livestock market or slaughter facility. Over or under loading cattle on livestock trailers can cause serious bruising and added stress to cattle being hauled. Every rancher should know the capacity of their livestock trailer to ensure that cattle are always properly loaded. Cattle should be sorted into trailer load groups in the cowpens, making it easy for workers to load the optimal number. The following chart is a useful guide to help plan trailer loads for hauling cattle. From this chart we can predetermine the number of cattle that should be hauled and plan trips accordingly. For example, according to the chart a 24′ x 7′ trailer can safely haul a maximum of eleven 1,200 pound cows.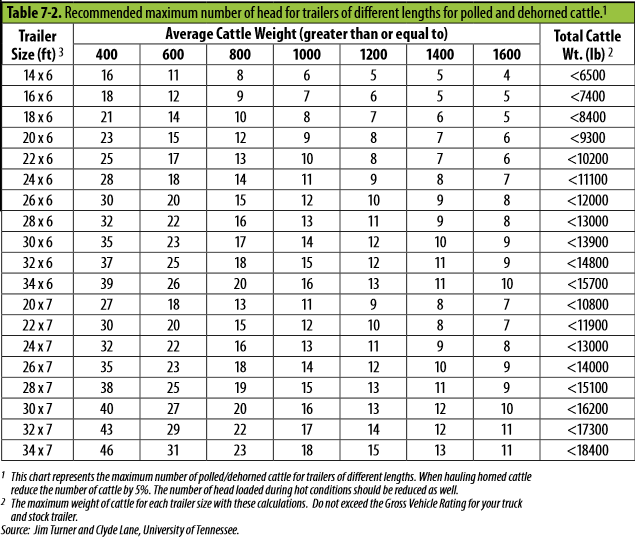 The following video is one of a series of 9 training videos available from the BQA training website for ranchers to use for employee training available on the BQA Stock Trailer Transportation YouTube site.
In addition to the videos, there is a wealth of information in the BQA Training Manual, which provides the following tips on cattle transportation:
Cattle sorting and holding pens should allow handling without undue stress, be located near the loading/unloading facility, and be suitable for herd size.
Provide properly designed and maintained loading facilities for easy and safe animal movement. Proper design of loading chutes as well as personnel that are knowledgeable of their proper use can assure the safety of both cattle and cattle handlers. Ramps and chutes should be strong and solid, provide non-slip footing, and have sides high enough to keep cattle from falling or jumping off. A ramp angle of 25 degrees or less will improve cattle movement.
All vehicles used to transport cattle should provide for the safety of personnel and cattle during loading, transporting, and unloading.
Strictly adhere to safe load levels with regard to animal weight and space allocation.
Producers hauling cattle in farm and ranch trailers must ensure that adequate space is provided so that cattle have sufficient room to stand with little risk of being forced down because of overcrowding.
Cattle that are unable to withstand the rigors of transportation should not be shipped.
When the vehicle is not full, safely partition cattle into smaller areas to provide stability for the cattle and the vehicle.
Knowingly inflicting physical injury or unnecessary pain on cattle when loading, unloading or transporting animals is not acceptable.
No gap which would allow injury to an animal should exist between the ramp, its sides, and the vehicle.
Vehicle doors and internal gates should be sufficiently wide to permit cattle to pass through easily without bruising or injury.
0