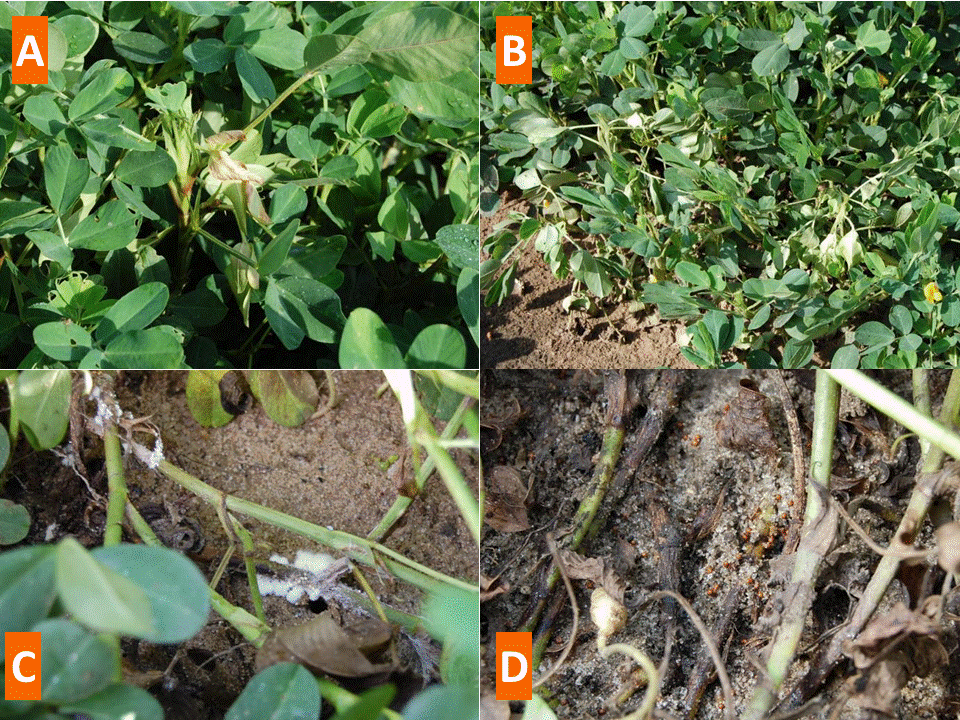 By: Nicholas S. Dufault, Extension Plant Pathologist, University of Florida
This year rainfall returned to most of Florida's peanut production areas through afternoon showers and tropical systems Debra and Isaac. The increase in moisture created a high disease pressure year with stem rot (white mold) and Rhizoctonia diseases being a major problem for many growers across the state. Also, there was one confirmed occurrence of Cylindrocladium black rot (CBR) in north central Florida and several unconfirmed reports throughout the state. Finally, Tomato Spotted Wilt Virus (TSWV) was also seen throughout the growing region but in low quantities. It is possible that the warm winter months coupled with early planting dates, and in some case 'skippy' stands, led to the notable presence of TSWV. However, TSWV was still not a major concern for Florida peanut production in 2012.
As the peanut season comes to a close there are a few things we should consider about our disease management programs. First, in order to have a quality management program it is critical to gather as much information as possible about the host, pathogen and environment. Three things to keep in mind about these factors as you make your final decisions are:
1. Remember that within 14 days of harvest fungicides provide little if any yield benefits and that pre-harvest intervals range from 14 to 40 days (Table 2). So, knowing the approximate days your peanuts have until maturity is critical to determining late season fungicide sprays, if any are needed.
2. Even in the best fungicide programs, there will always be some disease present. During high disease pressure years it is estimated that the best fungicide program will provide 70 to 80% control/management of a disease. So, in a year such as 2012, having a disease incidence of 30% or greater is not uncommon. During a high disease pressure year the rotation of fungicide chemistries is even more important to control the development and spread of resistant pathogens. Tables 1 and 2 provide a list of common fungicides and their different chemistries (FRAC numbers), to assist you in your fungicide spray selection.
3. Weather is always critical for the disease development of any peanut pathogen. In general, fungal pathogens do better in wet and warm (65 to 85°F) environmental conditions. Major systems, such as tropical storms or hurricanes, can also delay our harvest dates or create gaps in our spray programs. It is important for growers to watch the weather forecast to make accurate and timely applications of fungicide products.
It is never too early to start planning for next year. Before your harvest, it is always good to take notes and scout your field for disease and other problems. These notes will be critical to determining management programs for next year and are very useful for spray selection tools such as Peanut Rx. Finally, be sure to note what disease is present in the field. For example, in-furrow fungicide applications can be useful for managing Cylindrocladium black rot, but may not be as useful for stem rot or Rhizoctonia diseases. Knowing what diseases were present the year before is always important for any decisions in your fungicide management program.
Download the entire fact sheet that has descriptions for common peanut diseases, ratings chart, and specif fungicide information : Sept 2012 Peanut Disease Update.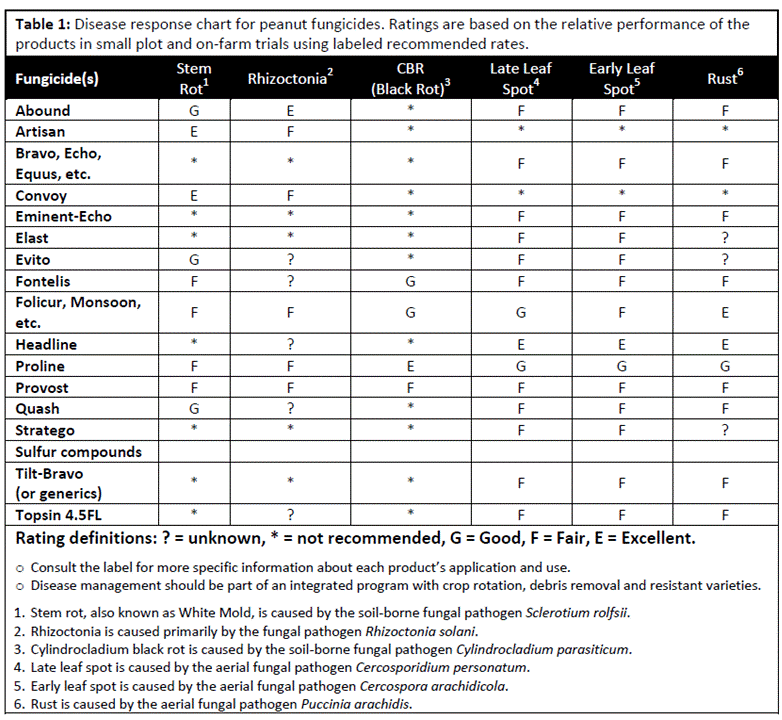 0