2012 Southern Pine Beetle Assistance and Prevention Program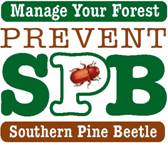 2012 Sign-up Period: May 7, 2012 (8am) through June 11, 2012 (5pm)
The Southern Pine Beetle Assistance and Prevention Program is offered to eligible non-industrial private forest landowners by the Florida Forest Service (FFS) through temporary grants from the USDA Forest Service.
Periodic southern pine beetle (SPB) outbreaks in Florida have resulted in millions of cubic feet of pine timber killed on thousands of acres. The goal of this program is to minimize SPB damage in Florida by helping forest landowners conduct management practices that can make their pine stands less susceptible to this destructive insect pest. Forest management practices, such as thinning, prescribed burning, other competition control, and use of less-susceptible pine species can improve the health of pine stands and decrease their likelihood of developing SPB infestations.
Program Information

The program offers partial cost reimbursement or incentive payments for:
first pulpwood thinning
prescribed burning
planting longleaf pine
mechanical underbrush treatments
All payments are made at specified per-acre or per-seedling rates. Please see the Technical Guidelines Booklet for available practices, practice requirements, and payment rates.
The program is limited to 44 northern Florida counties located within the range of the southern pine beetle. Qualified landowners may apply for up to two approved practices per year. The minimum tract size requirement is 10 acres (5 acres for First Pulpwood Thinning) and funding requests may not exceed $10,000. Only one application per landowner is permitted per year.
Applying to the Program
To apply to the program, Jackson County landowners should contact:
Barry Stafford County Forester
2741 Pennsylvania Ave, Suite 2 Marianna, FL 32448
850-482-9509 Barry.Stafford@freshfromflorida.com
2012 Guidelines and Forms
Applications received in Gainesville before the start date, or received (or postmarked) after the end date will not be considered, or will receive lowest priority ranking for any remaining available funds. All applications received at any time during sign-up period will be equally evaluated and ranked for funding approval using established criteria. The program is supported through temporary grants from the USDA Forest Service and limited funding is available.
0